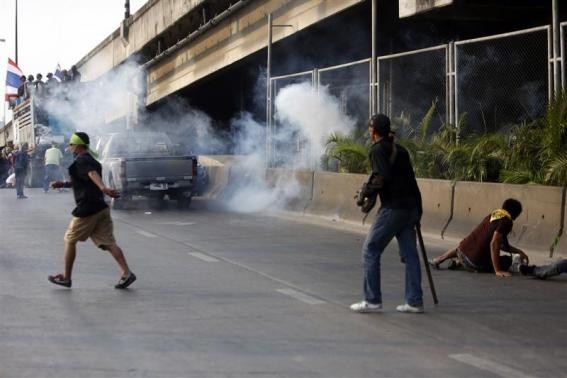 Polling stations in Thiland opened at around 8am local time and will close at 3pm, even as growing violence against the general elections has threatened to not only disrupt the entire process but also to tear the country apart.
Anti-government protesters are trying to disrupt the voting across the violence-stripped nation and are poised to continue their campaign to force Prime Minister Yingluck Shinawatra to resign. The election was boycotted by the opposition.
But the infamous PM cast her vote soon after polls opened on Sunday near her Bangkok home.
Despite protests which have only been increasing since November last year, Yingluck called for a snap election. She had last won election in 2011.
Security is heavy throughout the nation with vast areas under a state of emergency declared due to the protests.
"The situation overall is calm and we haven't received any reports of violence this morning," National Security Council Chief Paradorn Pattanatabutr told Reuters. "The protesters are rallying peacefully to show their opposition to this election," he added.
Security officers have said that about 130,000 personnel would be deployed across Thailand on Sunday, including 12,000 in Bangkok.
The BBC has reported that crowds of demonstrators are blocking access to voters at some polling stations and are also preventing ballot papers from reaching the polling stations. Polling is being distupted in five districts in Bangkok and in the south, which has been a stronghold of the opposition.
"Today is an important day," PM Yingluck said, as she voted. "I wold like to invite Thai people to come out and vote to uphold democracy."
Thailand has seen a spate of anti-government protests for months from the opposition-backed population, who have accused Yingluck of being a puppet ruler of her brother Thaksin Shinawatra, who was ousted by a military coup in 2006, for political notoriety and corruption.
Thaksin, a tycoon-turned-politician and billionaire, is now in a self-imposed exile. He still remains a hero for millions of poor voters, who had pushed for his party's victory in every election since 2001.
Yingluck won by a landslide victory in 2011, thanks to the overwhelming support she enjoys in the populous, rural north and north east Thailand. The ousted former PM Thaksin was admired by rural folks for the cheap healthcare and other policies brought in, while he was in power. So Yingluck amassed the support from the rural population, thanks to her brother.
Analysts say there are no reasons to believe that Sunday's voting would lead to Yingluck's exit. Her call for a snap election seems to be mainly based on her assumption that she could rise again to power in a legitimate democratic election, which the international community would not be able to rebuke.