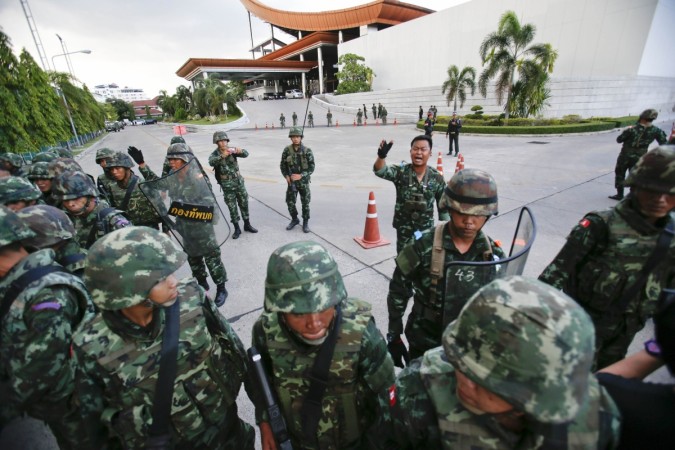 United States and other world leaders have condemned Thailand's military's decision to suspend the constitution and take control of the government in a coup.
The US Secretary of State John Kerry said in a blunt statement that there is no "justification for this military coup".
"I am concerned by reports that senior political leaders of Thailand's major parties have been detained and call for their release. I am also concerned that media outlets have been shut down," he said adding, "I urge the restoration of civilian government immediately, a return to democracy, and respect for human rights and fundamental freedoms, such as press freedoms."
Kerry added that the United States' $10m in bilateral aid could be suspended.
"While we value our long friendship with the Thai people, this act will have negative implications for the US-Thai relationship, especially for our relationship with the Thai military," he said. "We are reviewing our military and other assistance and engagements, consistent with US law.
The United Nations also expressed serious concern, with Secretary General Ban Ki-moon appealing "for a prompt return to constitutional, civilian, democratic rule and an all-inclusive dialogue that will pave the way for long-term peace and prosperity," Reuters reported.
Even while international condemnation for the surprise military coup in Thailand continues to flow, Thailand's military leader summoned more than 100 key political figures to a meeting in Bangkok on Friday, a day after the coup.
Ousted leader Yingluck Shinawatra, the acting PM, his government and protest leaders were among the people called for the meeting, the BBC reports.
It is however, not clear yet whether the leaders were summoned to discuss a democratic transition. It was also not clear how many of them would attend the meeting.
After the military announced its coup in a dramatic television announcement on Thursday, European and Asian nations too expressed concern over the action. While, Germany, France and Britain issued statements of condemnation, Japan's Foreign Minister called it "regrettable" and Singapore urged all sides to avoid clashes.
The military declared a curfew from 10pm on Thursday until 5am after suspending the constitution and detaining some politicians. Rival protest camps were ordered to disperse, while television channels were asked not to report any violence.
The coup d'etat came after months of political turmoil and two days after the imposition of martial law.
The streets of Bangkok and other major cities have virtually been left in a war-like situation, as increasing number of people protested for months against the country's Prime Minister Yingluck Shiniwatra, who is accused of being a puppet ruler of her brother and former ousted leader Thaksin Shinawatra.
Thaksin was ousted by the same military in 2006, after he was accused of corruption.
The latest unrest began in the Thai capital late last year, when PM Yingluck dissolved the lower house of parliament.