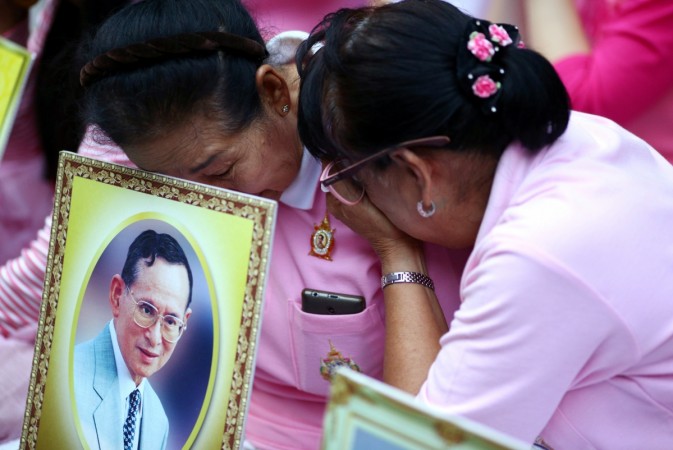 Hundreds of people gathered outside Siriraj Hospital where the world's longest reigning monarch, King Bhumibol Adulyadej, was admitted. Thailand's 88-year-old King was said to be in an 'unstable condition' and people had been holding a vigil for him praying for his recovery. An announcement was expected shortly from the Thai government but social media quotes Thai media as saying the King had passed away.
In fact, many people were seen wearing pink which is seen an as auspicious colour that would bring the King good health. Others were seen wearing yellow which is the King's colour. Media reports that the King's four children have visited him in hospital and were with him.
Prime Minister Prayuth Chan-ocha was to attend a summit in Goa, India, but he cancelled it. As of now, no reason has been given for this but speculation is that the health of the King was the main cause.
King Bhumibol Adulyadej's health condition has always been a sensivie subject in the country given the political unrest it has seen over the years. It was reported that last week a hemodialysis was performed on him but he has been suffering from kidney and lung ailments for a while now.
Thai economy takes a hit
The Thai stock market plunged on news of the King being critically unwell. Deputy Prime Minister Somkid Jatusripitak reportedly told media that they would investigate rumours that affected the stock market. It looks like Thais are selling numerous stocks which foreigners have been picking up. He has asked for people to wait for any announcements only from the government and not go by rumours.
The Palace has apparently released an official statement that many have tweeted out on social media.