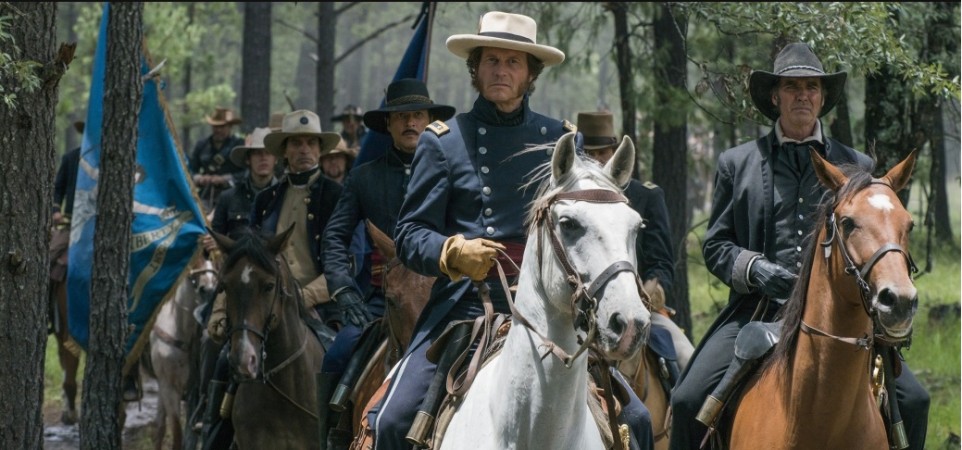 "Texas Rising", the five-part mini series based on the Texas Revolution against Mexico, will be aired on History Channel from Memorial Day, 25 May. Directed by Roland Joffe, the History Channel show stars many big-shots like Bill Paxton, Jeffrey Dean Morgan, Ray Liotta, Brendan Fraser, Olivier Martinez, and Cynthia Addai-Robinson.
The story is set in 1836 Mississippi, also known as the Wild West, where the Texas frontier was attacked by the Mexican armadas from the outside and the Comanche tribes from the inside. In these hellish times, one heroic General Sam Houstan (Bill Paxton), with help of the rag tag Rangers and the "Yellow Rose of Texas" (Cynthia Addai-Robinson), stood united, leading to an unlikely victory.
Here is the complete list of the cast members for "Texas Rising", which will premiere on Memorial Day, 25 May:
Sam Houston (Bill Paxton)

Sam Houston - a war veteran, former Tennessee governor, and the commander of the Texas Army - is a broken man who has had a failed marriage. In Texas, he finds a new cause and leads many valiant men, willing to die for independence of Texas.
Santa Anna (Olivier Martinez)
Santa Anna, a ruthless military ruler of Mexico, is ruthless about driving Sam Houston's troops out of the disputed territory of Texas. The flamboyant yet brilliant strategist and ferocious fighter is often referred to as "The Napoleon of the West". According to the history books, he was sleeping with Emily West.
Emily West (Cynthia Addai-Robinson)
Emily West, who is legendary as the "Yellow Rose of Texas", was an unabashed courtesan and a lover of General Houston. After watching her beloved brother executed by Santa Anna troops, she seduces the Mexican leader to personally avenge his death. The information she gathers at Santa Anna's camp proves to be invaluable to the troops led by Houston.
Thomas Rusk (Jeff Fahey)
The Texas Secretary of War, Thomas Rusk, is also a good friend of Houston. He flees the temporary office of state in Harrisburg just before Santa Anna's troops swarm in and get caught in the middle of political forces trying to oust Houston. Although sent to the Army camp to relieve Houston of command, Rusk ends up becoming his staunchest supporter.
Mirabeau Lamar (Chad Michael Murray)
Mirabeau Lamar private is recruited by Martin and Baker to get a petition to the Secretary of War requesting General Houston's removal as commander, who ends up fighting alongside Houston in the battle, while scheming for his downfall.
Deaf Smith (Jeffrey Dean Morgan)
"Deaf", one of the most legendary Rangers, is a grizzled veteran who refuses to back down from the fight for Texas freedom, much to the deepening concern of his loving wife Guadalupe. The big-hearted soldier adopts a toddler who survived the Alamo massacre to raise as his own.
Henry Karnes (Christopher McDonald)
Henry Kanes, along with Deaf Smith, is the co-leader of the ragtag Texas Rangering Company. Fiercely loyal to Houston and the cause of Texas independence, he rallies his Rangers in the aftermath of the Alamo massacre to become the "tip of the spear" for the Texas Army in the war with Mexico.
Billy Anderson (Brendan Fraser)

Kidnapped as a boy and raised by the Kiowa, Billy Anderson is torn between the Texan Rangers and the Mexican army. Fluent in Kiowa, Caddo, and Comanche languages, Anderson rides like a Comanche, and uses a bow and arrow and other traditional weapons as well as any Native American.
Colonel Fannin (Rob Morrow)
This finely-bred West Point-trained officer, Colonel Fannin, ignores General Houston's orders and instead, relies on his "conscience" for guidance. However, when informed of the approaching Mexican Army, he finally decides to flee Goliad too late, leading his regiment into the open where they are ambushed.
Almonte (Antonio De La Vega)
Santa Anna's closest aide, Almonte, is the one that convinces his leader to not execute the Alamo's women and children prisoners, including Emily West.
George Hockley (Geoffrey Blake)
George Hockley is Houston's tense, always worried confidant, and adviser, who stays by his leader's side throughout the battle for freedom in the Texas territory.
Juan Seguin (Raúl Méndez)
General Houston's trusted officer, Juan Seguín, is a Tejano leader in the Texas Army, who left his comrades at the Alamo to ride for help. He was also part of the delegation that brings Houston to come to the aid of besieged defenders of the Alamo.
Vern Elwood (Rhys Coiro)
The good-looking inveterate womaniser, Vern Elwood, is an abrasive member of the Texas Rangers, who sparks ill will among his fellow soldiers. He is a dangerous warrior, who never holds back in a fight, even displaying a disturbing sadistic streak in the battlefield.
Manuel Flores (Gerardo Taracena)
A member of the Tejano Rangers, Manuel Flores, is appalled by Santa Anna's savagery and fights with the Texans to free the disputed territory from the Mexican General's clutches.
Ephraim Knowles (Jeremy Davies)
Ephraim Knowles is a rogue that was ruled for execution by the court. However, after he begs for a second chance, the Army takes him under their wing, making him a part of the Company.
Gator Davis (Stephen Monroe Taylor)
Gator Davis is a charming liar who joins the Rangers after the Alamo, with a hidden agenda.
Kit Acklin (Trevor Donovan)
Kit Acklin is the best horseman among the Rangers who strikes up romance with Rebecca Pit after saving her from a waggon accident.
Rebecca Pit (Molly McMichael)
Rebecca Pit becomes a romantic interest for Kit Acklin after he saves from a waggon accident.
Colby Pitt (Jacob Lofland)

Rebecca Pit's brother, who is grateful to the Rangers for saving him and his sister, joins General Houston's troops in time for the decisive Battle of San Jacinto.
Portilla (Harold Torres)
Santa Anna's subordinate, Portilla, follows his commander's orders without question.
Other characters to be brought to life in the Memorial Day premier of "Texas Rising" are: Lorca (Ray Liotta), Bean Wilkins (Joe Egender), Colonel Sherman (Johnathon Schaech), Mosely Baker (Crispin Glover), Jack Hays (Max Thieriot), Bigfoot Wallace (Robert Baker), Samuel Wallace (Jake Busey), Doc Ewing (Darrel Fetty), Sarah Ewing (Vico Escorcia), Truett Fincham (Adam Hicks), Yancey Burns (Dillon Lane), Guadalupe (Mayra Sérbulo), Nate (Amen Igbinosun), Empresario Buckley (Robert Knepper), Clarance (Nigal Haaswijk), Romolo (Miguel Angel Fuentes), Buffalo Hump (Horacio García Rojas), Yellow Knife (John Elvis), Cole Hornfischer (Courtney Gains), James Wykoff (Thomas Jane), Pauline Wykoff (Sarah Jones), and Andrew Jckson (Kris Kristofferson).