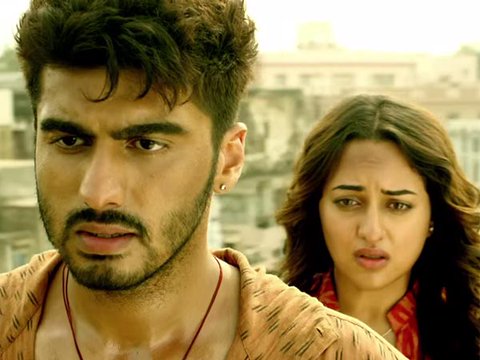 IBTimes India Rating: 2.5
You already know it's going to be a larger-than-life experience when the lead hero goes, "Main toh Superman, Salman ka fan". Expect over-the-top action sequences, chases and dollops of melodrama in debutant director Amit Sharma's "Tevar".
A remake of Mahesh Babu's "Okkadu", the story follows Pintu Shukla (Arjun Kapoor) and his brave attempts to shield Radhika (Sonakshi Sinha) from the advances of lusty faction leader Gajender Singh (Manoj Bajpayee).
The plot thickens when Radhika falls irrevocably in love with her saviour but learns of his dad, a cop (Raj Babbar), who is on the lookout for her. Will the lovers unite and live happily ever after is what the film holds for you.
Arjun, as the protector, does the macho act with aplomb but reminds one of his debut film "Ishaqzaade" where he was seen dodging trigger-happy goons and in the process, saving his one true love. Although the performance was appreciable, he needs to add dimensions to his portrayals of the searing angry young man.
Sonakshi has done the damsel-in-distress act far too many times to get even remotely close to surprising the audience with her acting skills. Her character is a victim of stereotyping women in Hindi films. Although times have changed, Bollywood has this penchant of making the female helplessly wait for the knight in shining armour to come and save her.
Manoj's Gajender, who cannot seem to cope with rejection, is one to watch out for. His repeated attempts to win over his dream girl are hilarious. And also, like every other man in the world, he is really weird when it comes to professing love.
Amit, as a debutant, does a fare job of interspersing the plot with interesting twists padding it with witty one-liners, but plays it safe.
Set in Mathura and Agra, cinematographer Laxman Utekar scores big for peppering every frame with the rustic charm of semi-rural India. Narrow, dusty lanes dotted with structures inspired by Mughal architecture – every aspect has been touched upon carefully to give the canvas a real look and feel.
"Let's Celebrate", "Superman" and "Radha Nachegi" composed by Sajid-Wajid is just about okay but fails to leave a mark.
In a nutshell, 'Tevar' has every ingredient a Bollywood masala film requires but is felled by its predictability. However, it can still be called a passable entertainer.