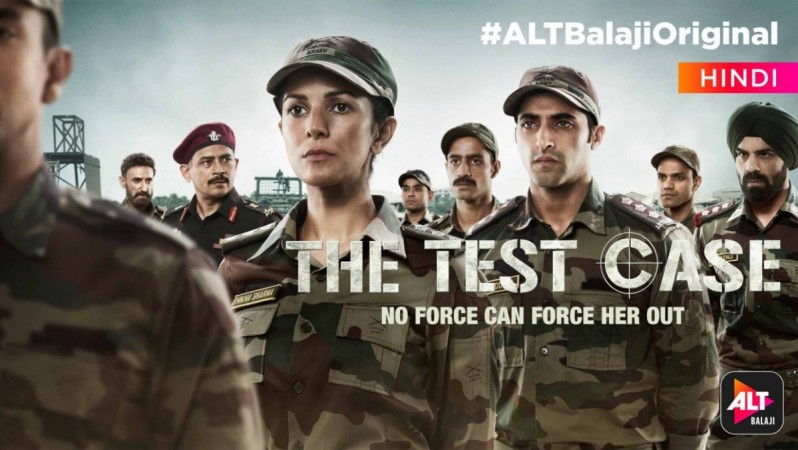 Being a girl is harder when you are living in a male-dominated society where men are supposed to take charge of tough and high endurance field as girls are considered weaker than their male counterparts. While the debate around girls vs boys has been going on for a very long time, AltBalaji's new web series The Test Case packs a hard punch to those who feel girls are misfits when it comes to rigorous testing.
The narrative of the series revolves around the life of Shikha Singh, played by Nimrat Kaur, who vows to become the first woman to be inducted into the Indian Army. It shows how Shikha battles it out for her existence in the world dominated by men.
The series is progressive in its true sense and it doesn't shy away from showcasing the sexism which is deeply rooted in our society. From sexist remarks referring to women's body parts to insecurities that men feel when a woman runs shoulder to shoulder with them training hard and coming out strongly.
The protagonist, Nimrat Kaur, has shown tremendous transformation with her portrayal of Captain Shikha Singh who doesn't have the word 'quit' in her dictionary. She goes through tough Army training and looks convincing on her part. There are some scenes where Nimrat looks a bit clumsy while firing guns or punch fights but she picks herself well as the series progresses. Her courage, her endurance, her stamina, her physical strength, everything has been put to test and Nimrat doesn't disappoint.
Actors like Rahul Dev as the ruthless commandant Kripal Bhatti, Atul Kulkarni as Colonel Ajinkya Sathe, Akshay Oberoi as Captain Bilal Siddiqui and others never let you take your eyes off them with their charismatic performances. They are the backbone of The Test Case. And though Juhi Chawla appears in a cameo as Shraddha Pandit, India's defence minister, her role is substantial.
Director Nagesh Kukunoor, who has given Bollywood gems like Iqbal, Dor, Aashayein and Dhanak, brings out the raw emotions of the characters gracefully on screen and once again creates magic with his vision. The storytelling, however, slows down or seems a bit stretched at some points but that can be ignored since it keeps you hooked to your screens and makes you want to have more of it at the end of the episodes. And Kukunoor surely knows how to keep his audience glued to their seats. The background score is very dramatic and fits the bill.
Overall, The Test Case is surely a series that is inspiring, encouraging and yet again showcases the woman power sending out a message to the world that girls can equally be physically strong as that of boys with its gripping storyline.