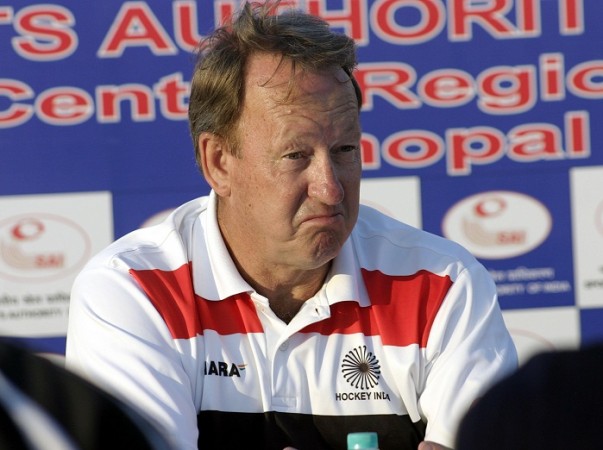 Just a day after tendering his resignation as India hockey coach, Terry Walsh has decided to remain at the helm after crisis talks with SAI and Hockey India on Wednesday.
Walsh had decided to quit his post as Indian hockey's chief coach citing issues with the bureaucracy and the fact that he wanted to spend more time with his family in Australia.
"I hereby tender my resignation as the chief coach, Indian men's hockey team, effective as per the details of my contract or as agreed to by all concerned parties," Walsh said in a letter sent to SAI director general Jiji Thomson on Tuesday.
"I am finding considerable difficulty adjusting to the decision making style of the sporting bureaucracy in India which I believe, in the long term, is not in the best interests of Indian Hockey or it's players.
"I am not willing to continue with the constant time away from my family in Australia. My current commitment places too much stress on my personal life."
There were reports suggesting that the main issue was regarding pay, which Walsh denied on TV last night, and after holding a meeting with SAI on Wednesday, the issue, whatever it may be, has been sorted, leading to Walsh taking back his resignation.
A big hue and cry was also raised in the media over bureaucracy stalling India's growth in hockey, which was looking up after their Asian Games gold medal, courtesy a victory over Pakistan in the final.
Walsh, since taking over last year, has brought a lot of positives into the India hockey team, making the side more well-rounded, while also picking the team on merit.
With the Champions Trophy coming up, losing Walsh, who is also well liked by the players, would have been a big blow for India, and SAI have moved quickly to avoid more backlash to convince the Australian to stay.
Thomson had earlier said he was confident of convincing Walsh to change his decision, and it seems like he has succeeded.
"I met him [Walsh] when he came to SAI today," Thomson was quoted as saying by Rediff on Tuesday. "He told me that he doesn't have any issues with SAI. The matter will be resolved. We want him to continue in his position."