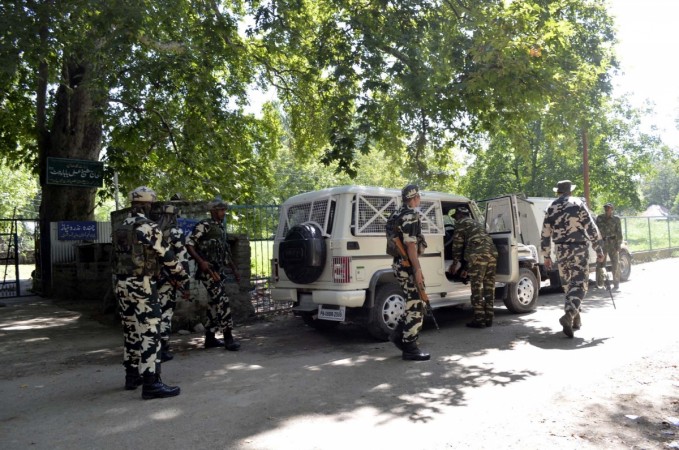 J&K Assembly Speaker Kavinder Gupta also blamed the Bangladeshis and Rohingyas living in Jammu for the increase in crimes and deteriorating safety of the other residents.
I watched a live video, one can see Army area from rooftops there(where Rohingyas & Bangladeshis live),there is drug mafia running in those areas.For money some people have given them space to stay.Govt must take note of this: Kavinder Gupta, J&K Assembly Speaker #SunjwanAttack pic.twitter.com/tXlwb00ZhE

— ANI (@ANI) February 10, 2018
Jammu and Kashmir Chief Minister Mehbooba Mufti has said that the terrorist attack in Sunjwan has deeply disturbed her.
Deeply disturbed by the terrorist attack in #Sunjwan today. My heart goes out to the injured & their families.

— Mehbooba Mufti (@MehboobaMufti) February 10, 2018
Meanwhile security has been tightened in Udhampur, from where IAF para commandos airlifted to Jammu.
A BJP leader in Jammu has expressed his concern over the increasing number of refugees from other countries, who he feels will further provide shelter to the terrorists.
Have been raising issue of Bangladeshis & Rohingyas living in surrounding areas of Jammu, illegally. They are increasing,if not stopped they'll act as militant orgs' shelter & this may also be connected to them,investigation must be done: BJP MLC Vikram Randhawa on #SunjwanAttack pic.twitter.com/MlQPrRyW3W

— ANI (@ANI) February 10, 2018
More security reinforcements are being sent to Sunjwan Army Camp to eliminate the terrorists who barged in on Friday morning.
Latest reports claim that Jammu and Kashmir Inspector General S D Singh has said two persons have been killed and four have been injured in the terror attack.
Home Minister Rajnath Singh has asked the MHA officials to look into the terror attack in Sunjwan.
Home Minister Rajnath Singh spoke to J&K DGP over Sunjwan Army Camp attack & has directed MHA officials to look into the matter.

— ANI (@ANI) February 10, 2018
Five civilians have been injured in the attack till now, said a Times Now report.
The security personnel have cornered the terrorists in one of the buildings of the family quarters.
The district administration of Jammu has asked schools within 500 meters of the camp to remain closed.

An army personnel injured in the indiscrimiante firing is in a critical condition.
Latest reports have claimed that a civilian has also been injured in the attack.
Meanwhile a PTI report has said that Intelligence inputs had warned of a terror attack on either a army or security establishment by JeM militants to mark the death anniversary of Mohammad Afzal Guru, a Kashmiri separatist who had been hanged on February 9, 2013.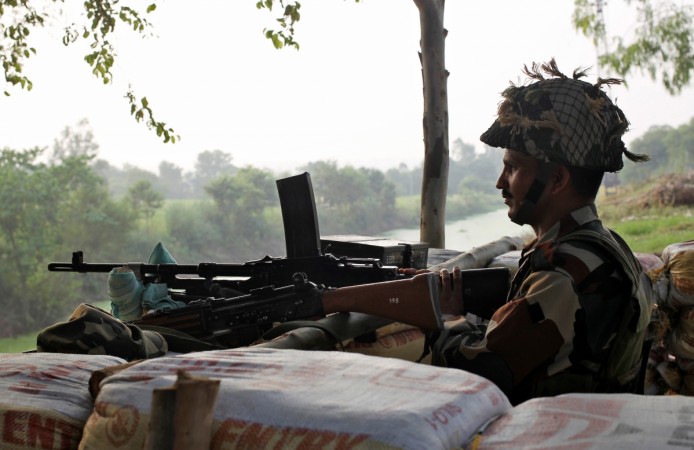 Jaish-e-Mohammed terrorists barged into family quarters of a Brigade army camp in Sunjwan area of Jammu in the early hours on Saturday. Reports claim that though there have been no casualties, three people, including a hawaldar and his daughter, have been injured in the indiscriminate firing.
#FLASH Jammu and Kashmir: Gun shots heard inside Sunjwan Army camp, area cordoned off. More details awaited.

— ANI (@ANI) February 10, 2018
The area has been cordoned off and operations are underway to flush out the terrorists present in the camp.
"Around 4:55am, suspicious movement was noticed by the santri. Santri bunker was fired upon and they retaliated. Number of terrorists isn't known, they've been cornered in one of the family quarters," ANI quoted Jammu inspector general of police SD Singh Jamwal as saying.
The last firing took place at 6 am. A red alert has been sounded in the entire city.