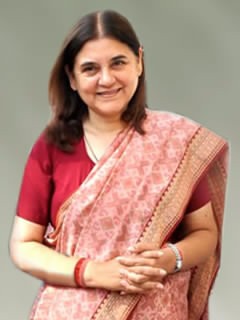 Linking the controversial issue of cow-slaughter to terrorism, Union Minister for Women and Child Development Maneka Gandhi, known to be a passionate animal activist, has alleged that funds from illegal animal trade are pumped into terrorism, and called for a ban on export of meat.
"Slaughter of milking animals is a trade of Indians. Money through trade of slaughtered animals goes into terrorism and therefore into killing us. Why are we allowing this?" Gandhi said at an international conference on "India For Animals" organised by the Federation of Indian Animal Protection Organisations (FIAPO) on Sunday.
Gandhi, however, was quick to clarify that there was no religious overtone to her statement, stating that the issue was not about religion and that people from all communities were involved in the illegal trade of slaughtered cows.
"A slaughterer could be a Muslim but the transporter and the owners of the cows are often Hindus and non-Muslims. So it is not about religion but about trade and greed for money," The Times of India quoted her as saying.
"India is killing more animals than even China. Milking animals are being slaughtered and illegally traded to Bangladesh and the Middle East. It is no longer about religion but money," she said.
According to Gandhi, who was citing a study that was given to the Uttar Pradesh police, large numbers of slaughtered cows were being exported to countries such as Bangladesh, which was further exporting this beef.
Claiming that Bangladesh was exporting nearly 1,60,000 tonnes of beef, she said, "But as a matter of fact they (Bangladesh) do not own a single cow."
Gandhi has called on animal activists and NGOs to come forward to keep checks on animal slaughter and has demanded a ban on export of animal meats.
"Export of all kinds of meat of animals should be banned and the animal welfare activists should launch a countrywide movement for the illegal slaughtering of animals," she said.
Gandhi's strong statement on cow-slaughtering comes a few months after Prime Minister Narendra Modi had raked up the issue during his election campaigns, terming the increasing cases of cattle being sold for slaughter as a "pink revolution", in reference to the colour of the meat.