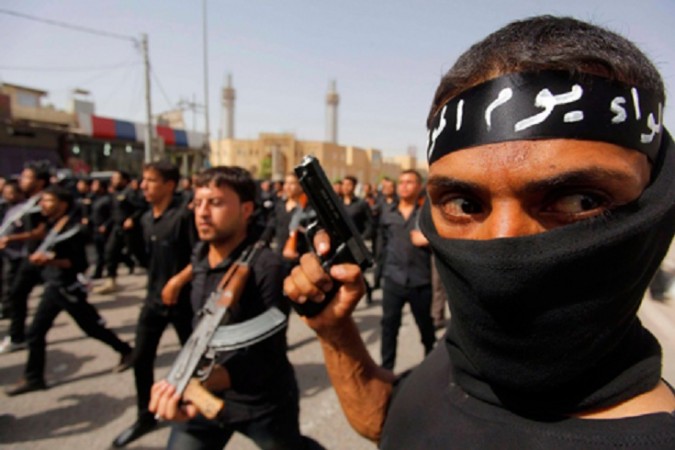 A report from Syria has claimed the death of the first Indian fighter for Al Nusra, who carried out a suicide bombing for the Al Qaeda affiliate in Syria.
It is reported that it would be a first instance; where an Indian national has been used by the terrorist fronts in Syria and Iraq to carry out a suicide mission.
The local news portal - Al-Masdar Al-'Arabi (The Arab Source), reported that Jabhat Al-Nusra has announced the death of one of their Indian fighters. The suicide bombing was carried out in the Hama Governate, located in Western-Central Syria.
The deceased Indian national has been identified by the name given to him by the Nusra leaders - Umar.
The Nusra reportedly have not revealed much details of his death or his suicide bombing mission. However, the group has posted a picture, believed to be of Umar sitting on barrels of explosives, armed with an AK-47.
Al-Nusra, which once used to share close tie-ups with Islamic State militants is also an Al Qaeda affiliate. However, the Nusra front and ISIS both have parted ways and the two groups often have fought each other on several occasions.
Though the information could not be independently verified, the local report noted that if the suicide bomber indeed was an Indian citizen – he will be the first Indian casualty in the Syrian conflict.
An Indian National has become the first jihadi from India for #AlNusra. The suicide bomber blew himself in #Syria pic.twitter.com/tZvRiK2m2N

— Newsitis (@Newsitis) September 1, 2014
The reported death of the suicide bomber from India comes within days after an Indian national from Mumbai, who had joined the Islamic State got killed in Iraq.
Arif Majeed, who was one of the four youngsters from Kalyan who had joined the ISIS in Iraq, died in a bomb blast during infighting in Mosul a few days ago reported The Times Of India.
Majeed, an engineering student and the son of a doctor, had gone to Iraq on 23 May along with his friends Fahad Sheikh, Aman Tandel and Shaheen on 'pilgrimage to the country's religious shrines', but the four never returned.
Later it was found that all four had joined the Islamic State of Iraq and Syria (ISIS).
According to the Hindustan Times, the Indian security agencies have found that at least 10 Muslim youngsters left lucrative jobs and joined the Islamic State's jihad in Iraq, but the number could be much higher.