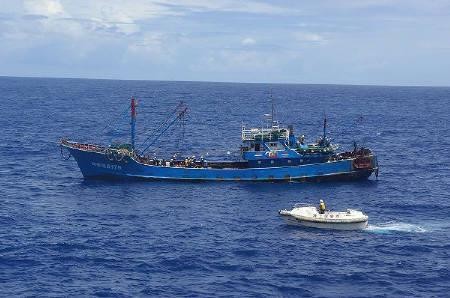 Wireless intercepts have allegedly revealed that the people on the two Pakistani fishing boats, spotted off the coast of Porbandar in Gujarat, were frequently in touch with the Pakistani Army, its Maritime Security Agency and someone in Thailand through a "contact".
The information on boats' connection with the two countries was revealed in the intercepts sent by National Technical Research Organisation (NTRO) to alert the Coast Guard in Gujarat, according to The Times of India sources.
On the night of 31 December, NTRO had informed the Indian Coast Guard about two boats heading from Keti Bandar near Karachi into Indian sea towards the coast of Porbandar in Gujarat.
The Coast Guard acted soon after receiving the interception and chased down one of the boats while another is believed to have returned to Pakistani waters after knowing that the other has exploded and sunk into the Indian waters.
The intercepts from the second boat allegedly revealed that the Pakistani fishing vessels were here for some "task". The Indian Defence Ministry believes that the boats were carrying explosives and expressed possibilities of terror plans.
"While the first boat was sinking, another intercept from the second boat talked about it heading back after finishing its task. They could have been involved in a mid-sea transfer of arms and ammunition," TOI quoted a source as saying.
The ministry said the two boats were sent into the Indian waters to carry out "a possibly dangerous mission" in "a well-coordinated operation".
Although no apparent danger is to be seen on the Indian coast in Gujarat, India is taking all measures to avoid any unfortunate incident from happening as Pravasi Bharatiya Divas and Vibrant Gujarat events are scheduled to begin in the state from next week. The security has been ramped up along the coastline of Gujarat in view of intelligence inputs on terror threat.