Maroon 5 frontman Adam Levine once said: "I hate flying. Know why? Because no one really understands how planes actually work." A lot of us may not have agreed when the singer said this and spoke about how aeroplanes were so much fun, but what happened with a Turkish passenger plane on January 14 is seriously something that will haunt its passengers for the rest of their lives.
A Pegasus Airlines flight skidded off the runway of Turkey's Trabzon airport and slid down the slope almost plunging into the Black Sea. The Boeing 737-800 plane, which came from Ankara, landed at the Trabzon runway but skidded and veered off landing patch coming to a halt on thick mud with the nose of the plane inches away from the sea.
While the 168 people on board were safe and evacuated immediately, there are several images and videos that are enough to send a chill down your spine. Passengers too spoke of the experience and said there was chaos in the cabin. "We tilted on the side and the front of the plane went down and the back of went up. There was a huge panic, people were shouting," Fatma Gordu, who was travelling on the plane, told Anadolu news agency, according to Reuters.
Once the plane came to a halt, flyers smelt fuel and thought the plane would burst into flames, but the crew was quick to act and the plane was sprayed with water.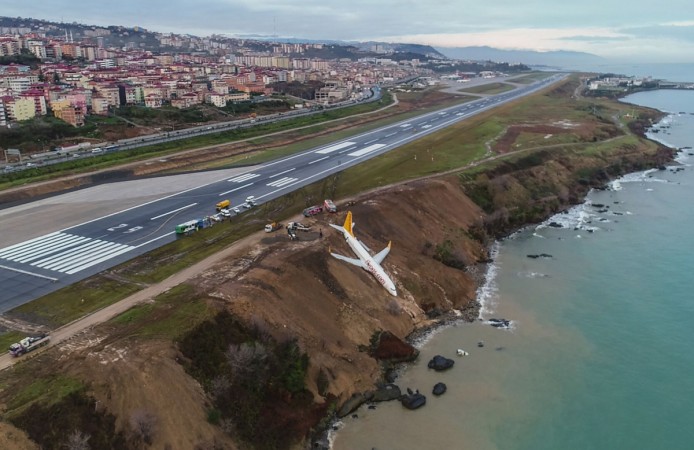 "It was a miracle," another passenger, Yuksel Gordu, added. "We could have burned, we could have exploded or we could have gone into the sea."
Passengers inside the cabin also took videos of the landing and the commotion and fear is evident.
Later, Pegasus Airlines said in a statement that the aircraft "had a runway excursion incident" but everyone on board, including 162 passengers, two pilots and four cabin crew got off unscathed.
"We're sorry to report that the Boeing 737-800 type TC-CPF registered aircraft of Pegasus Airlines Flight Number PC 8622 Ankara-Trabzon flight scheduled at 18:25 UTC tonight, had a Runway Excursion Incident during landing at Trabzon Airport (13 January 2018)," the airline said. "All 162 passengers, 2 pilots and 4 cabin crew have been disembarked safely from the aircraft. There has been no loss of life or injury to anyone on-board. We will continue to provide information with regards to any further updates."
The Pegasus Airlines mishap brings back memories of the Mangalore plane crash that shook India in 2010. While passengers on the Turkish airline were lucky, the Air India Express Flight 812 crash, which took place when the aircraft overshot the runway and fell over a cliff, killed 158 people onboard.