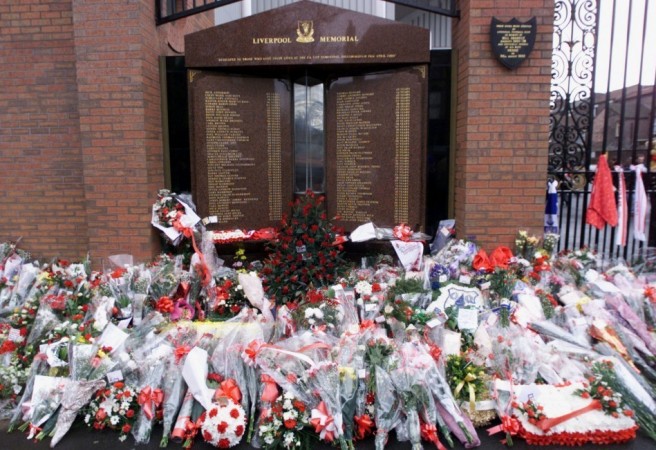 It's always great to watch arch rivals Manchester United and Liverpool play against each other but there is tension ahead of the Sunday's Premier League match for more reasons than one.
The situation is tense this time as it will be Liverpool's first game after the Hillsborough Independent Panel cleared the fans of the club for the deaths of 96 people during the FA Cup semi-final match between Liverpool and Nottingham Forest at Hillsborough stadium in 1989.
Adding more to the fears, Manchester United fans were engaged in anti-Liverpool chants during the match against Wigan last weekend. If they repeat the same at at Anfield on Sunday, situation could get ugly.
Sensing potential disorder during the Sunday clash, Merseyside Police have urged fans of Liverpool and Manchester United to stay calm and report anybody taking part in distasteful chanting.
Manchester United captain Nemanja Vidic, who is due to release 96 red balloons with Liverpool captain Steven Gerrard on Sunday to pay tribute to the victims of the Hillsborough disaster, has also urged supporters of the club and players not to resort to chanting.
"There is a lot of history with these two clubs. We have some history, some tragedies. They have as well. I think we should respect each other because we are big clubs who are respected around the world. We have to show an example, be on top of the bad situation and behave well," Vidic told journalists after Wednesday's Champions League match.
Manchester United coach Sir Alex Ferguson has condemned the fans involved in anti-Liverpool chanting during the match against Wigan and assured support to the arch rivals.
"As a club we're totally in support of Liverpool and the situation they're in. It's going to be a very emotional day on Sunday and we'll support them in every way we can," Manchester United official site quoted Sir Alex as saying.
It is reported that a letter written by Sir Alex could be distributed to the Manchester United supporters who are heading for Anfield.
The match on Sunday will be an emotional one for the home side, as it is the first match after the Hillsborough Independent Panel cleared Liverpool fans for the deaths of the 96 people. The 1989 Hillsborough disaster is the worst football disasters in British history and one of the worst in the world. Around 766 people were also injured.