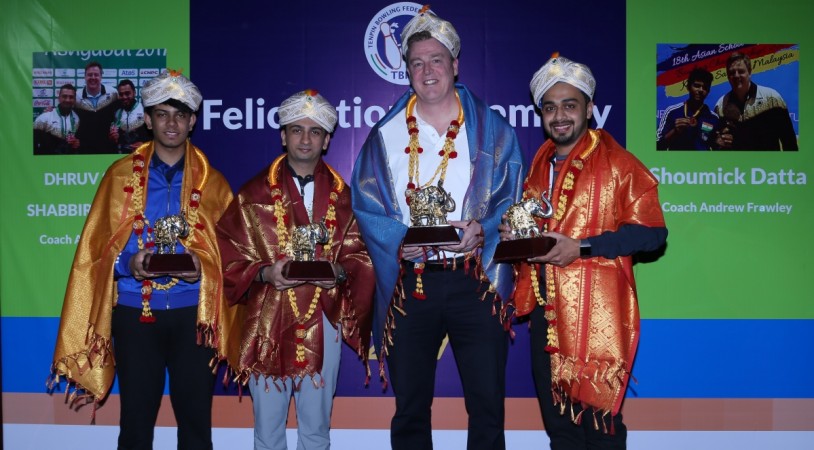 Tenpin Bowling Federation of India [ TBF(I) ] and Karnataka State Tenpin Bowling Association (KSTBA) felicitated all Medallists of 2017 at a function organized at Amoeba Bowling Center in Bangalore on Sunday, February 4.
Following medallists and Indian team coach were felicitated at the event.
Shabbir Dhankot and Dhruv Sarda, who won the first-ever medal for the sport of Tenpin Bowling in a multi-discipline event -- 5th Asian Indoor and Martial Arts Games held at Turkmenistan.
Shoumick Datta, who won a bronze medal at the Masters Event at 18th Asian Schools Tenpin Bowling Championships held at Kuching, Malaysia.
Andrew Frawley, Team India coach.
Shabbir and Dhruv were awarded Rs 2.5 Lakh each by TBF(I) and Rs 50000 each by KSTBA. Shoumick was awarded Rs One Lakh by the Federation and Rs 25000 by KSTBA.
All the three players will take part in the 28th National Championships of tenpin bowling, which will be held in Bengaluru between February 5 and 10.
Speaking on the occasion, Frawley said "I am really proud of the achievements of all 3 Medallists, especially that of Shoumick who went on to win a medal in 7 months after pursuing competitive bowling. Our next goal is to win a Medal at the Asian Games 2018 to be held in Jakarta, Indonesia".