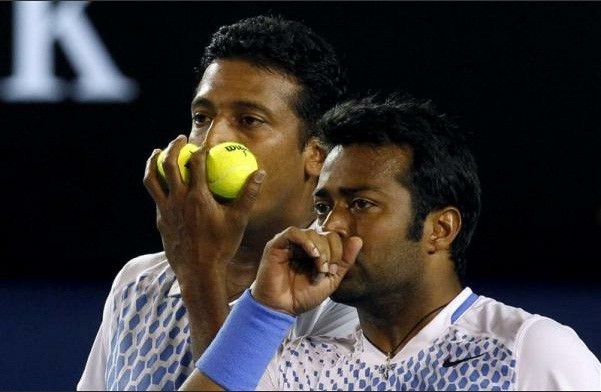 Finally bowing to pressure from India's top-ranked tennis player, Leander Paes, who threatened to pull out of the Olympics if he was paired with a low-ranked player, the All India Tennis Association (AITA) has decided to send only one best team for the Olympics to be held in London from July 27.
Earlier on Wednesday, expressing his concern in an e-mail to the AITA, Paes had said that he would partner with a lower-ranked player on condition that Bhupathi and Bopanna will not be allowed to form another doubles team.
Paes said that he wasn't against pairing with a low-ranked player which could possibly be Vishnu Vardhan or Yuki Bhambri, if Bhupathi or Bopanna still refuse to play. But he insisted that it would not be acceptable if the AITA decided to send two teams.
"On the basis of merit, I deserve to be there and I am still willing to play with Mahesh or Rohan but I am not willing to be subjected to an arrangement of going with a player ranked 300 just because the two other players have decided that. It sets a wrong precedent," Paes told the Indian Express.
Following this, the AITA decided to support Paes and noted that they could not drop India's top player from the Olympics. "If we send Mahesh and Rohan as a team, Leander will withdraw. That means only one team will go and we want our best player, Leander, to be a part of that one team," AITA President Anil Khanna said on Wednesday, according to Indian Express.
Trouble began when the AITA announced that Leander Paes and Mahesh Bhupathi, who recently won the French Open mixed doubles title with Sania Mirza, as India's official doubles entry for the Olympics.
But, Bhupathi refused to play with Leander Paes following differences of opinion. Bhupathi showed his interest to be paired with Rohan Bopanna and both of them made a joint statement, expressing their strong desire to play together.
"We have worked tirelessly on our pairing, choosing to break winning partnerships and put aside personal interests to combine forces to represent the nation. We have maintained our position as one of the top men's doubles teams in the world," they said in a joint statement.
Both Bhupathi and Bopanna have been in favour of two teams being sent so that they could be paired together.
Adding to these unresolved issues, Paes has evinced interest in being paired with Sania Mirza in the mixed doubles tournament. With their world rankings, both will qualify directly, but the AITA wants Sania to be paired with Bhupathi following their recent victory in the French Open mixed doubles tournament. Sania is also said to be keen to work with Bhupathi.
While Bhupathi is ranked world No 15, Sania is ranked world No 12. Together it comes to 27 and hence they cannot enter the Olympics directly.
The AITA is hoping to arrive at a decision on Thursday (June 21) as it is the last day to send nominations of the players to the International Tennis Federation.