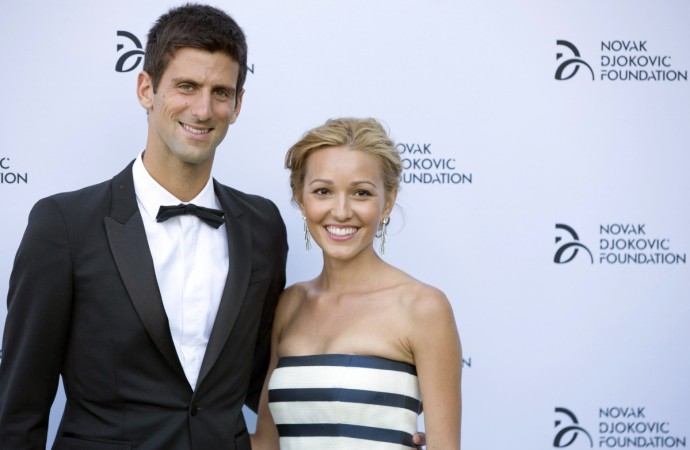 Novak Djokovic has been "a little flat" on the tennis court post-marriage and world no.1 admits that the sport is definitely not his top priority anymore.
"Without a doubt, life changes, priorities change. My priorities - my family, my wife, my future kid - tennis is definitely not number one anymore," said the 27-year-old, who won his seventh Grand Slam title at the 2014 Wimbledon.
Djokovic married longtime girlfriend Jelena Ristic, after Wimbledon and the couple is expecting their first child in less than two months.
The Serb made back-to-back early exits in Masters Series tournaments at Toronto and Cincinnati. However, he is hoping to turn things around at the US Open, which starts today.
Djokovic had won the title in 2011 and was the runner-up in 2012 and 2013, defeated by Andy Murray and Rafael Nadal respectively.
"I have high expectations for myself, I always have. I'm feeling better and better as the days go by," he stressed.
Djokovic is struggling to balance his family life and tennis, and has been taking counseling from several people, including his coach Boris Becker.
"Obviously I want to peak with my form in the US Open. Yes, I wanted to do better in Canada and Cincinnati. Unfortunately, I wasn't even close to my best.
"But, you know, a lot of things happened in the last two months, and it was a very emotional period. I just felt a little bit flat on the court. I wasn't managing to find that intensity and the perfect mindset."
Djokovic can seek some advice on parenthood from Roger Federer, who is the father of two sets of twins. The 33-year-old is still making the most of his career and will try to claim his record-extending 18th title at the Flushing Meadows.
"I think he must be quite excited about what's going to happen soon," Federer said. "And with the wedding and everything - he's going through a great spell at the moment, with winning Wimbledon on top of it.
"But I think he's got to figure it out himself really. But the good thing, he sees me with four (children), so with one it should be a piece of cake."