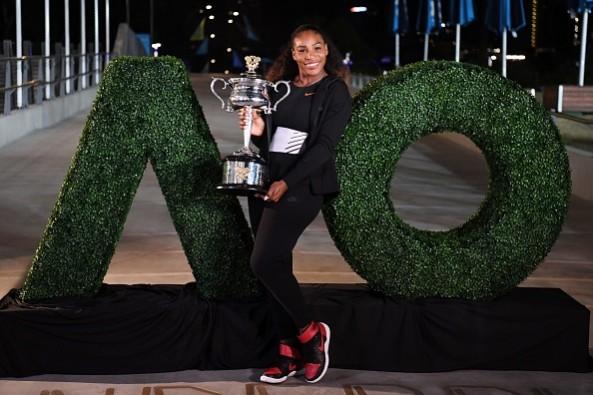 Australian Open 2017 winner Serena Williams is currently on a break from tennis as she prepares for the birth of her child with Alexis Ohanian but she still seems to be in the news a lot. Recently tennis legend John McEnroe said that Serena would be "like 700" in the world tennis rankings if she played in the men's tour.
The seven time Grand Slam winner was asked the question when he was promoting his memoir But Seriously and while he thinks she is the best female player ever, he does not think she is the best tennis player ever.
Also read: Serena Williams not letting her pregnancy stop her from doing what she loves
"Perhaps her ranking would be a little higher, perhaps it'd be a little lower. And on a given day Serena could beat some players. I believe because she's so incredibly strong mentally that she could overcome some situations where players would choke because she's been in it so many times, so many situations at Wimbledon, the US Open etc," NRP quoted McEnroe as saying.
"But if she had to just play the circuit — the men's circuit — that would be an entirely different story."
Following those comments by McEnroe, Serena posted a message for the tennis legend on Twitter, asking him to keep her out of his statements and demanded respect and privacy from him.
Dear John, I adore and respect you but please please keep me out of your statements that are not factually based.

— Serena Williams (@serenawilliams) 26 June 2017
I've never played anyone ranked "there" nor do I have time. Respect me and my privacy as I'm trying to have a baby. Good day sir

— Serena Williams (@serenawilliams) 26 June 2017
McEnroe also went on to say that maybe at some point a female tennis player could be better than anybody, stating anything is possible in the sport. Despite the American's comments on Serena now, he did praise her a few years back saying she is arguably the greatest athlete of the last 100 years after her win at Wimbledon in2015. He also described her as the greatest to play the game after her victory at the US Open in 2012.
After McEnroe made those comments, Russian tennis player Dmitry Tursunov also involved himself in the conversation, saying that he could actually beat Serena in a tennis match. The Russian, who is ranked 701 in the world, said that the reality of the situation is that men are stronger in general.
"I would hope that I would win against Serena. It would be a similar argument to: who would run faster, the fastest woman or the fastest man? Tennis is becoming more and more a physical sport, so it's going to be hard for a woman to beat the men," BBC quoted Tursunov as saying.