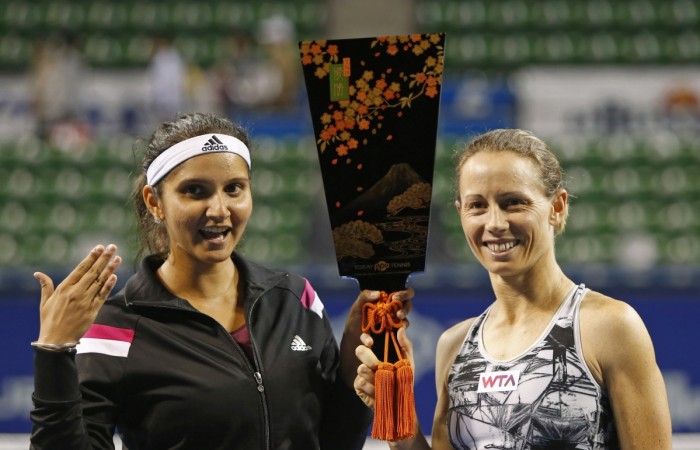 Things did not look great for Indian sensation Sania Mirza who was struggling in the WTA singles circuit some years ago. Injuries were proving to be a major obstacle as well, with a wrist injury, in particular, making her life difficult. As a result, the thought of giving up the sport also came into the mind of the Indian.
But, after getting married in 2010 to Pakistan cricketer Shoaib Malik, her fortunes seems to have turned around.
"Getting married in 2010 was one [crucial decision]. It was a crucial time in my career and I had almost quit playing tennis due to a wrist injury. I was not able even lift a comb. I think six months after marriage, Shoaib said that I should play again," Sania told Times Of India.
"I think my racquets were in the basement. I then starting playing again and my wrist was better. I did play well at Wimbledon."
The Indian had broken into the WTA singles arena with impressive performances in the circuit, which included wins over big players such as Victoria Azarenka, Svetlana Kuznetsova and Marion Bartoli. She also has a WTA singles title to her name and to add to it, she was ranked as high as 27 in the circuit.
But, the Indian decided to give up on singles and concentrate on her doubles career and it seems to have been the right choice with Sania winning a number of doubles title, which also includes Grand Slams.
"The second [crucial] decision was to give up singles and concentrate on doubles," she added. "I started doing well with different partners and it was like a dream come true for me."
Sania has been in amazing form of late, reaching the world number ranking following some incredible victories after pairing with Swiss star Martina Hingis.
The Indo-Swiss pair has already won WTA doubles titles such as Indian Wells, the Miami Open and the recently-concluded Family Circle Cup this year.