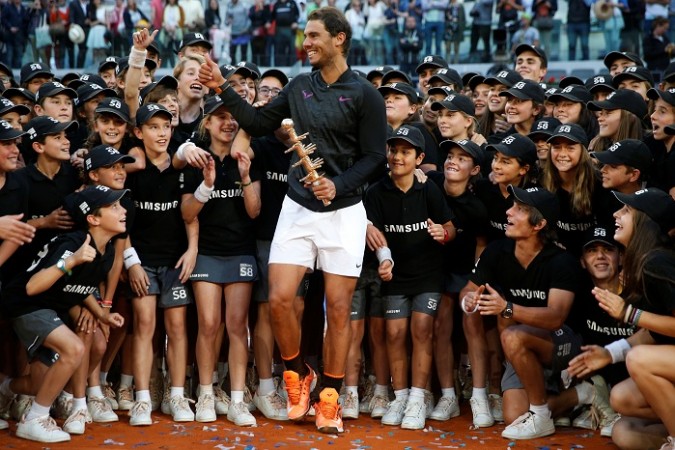 Roger Federer and Rafael Nadal's performances in 2017 have stood out. They are playing some sublime tennis, and their titles in 2017 speak volumes about their resurgence. If Federer conquered the hard court season, winning three titles including the Australian Open, Nadal has dominated the clay court season so far, winning three titles ahead of the French Open, which starts on May 22.
Federer opted to go for a break before the Roland Garros, and Nadal took full advantage of the situation, playing some wonderful tennis on clay to maintain his unbeaten streak. He has won 15-straight matches on clay, which helped him overtake Federer in the ATP rankings as well.
Nadal, after his incredible win over Dominic Thiem in the Madrid Open final, has jumped to the fourth position while Federer has slipped to one place behind him. Nadal defeated Thiem in straight sets on Sunday.
There seems to be no stopping Nadal who is in a phenomenally dominant mood. Even when he is tested this season on clay, he has found another gear to help him win matches. The Spaniard is set to participate in the Rome Masters during this week, and he will once again start as favourite.
With top players such as Novak Djokovic and Andy Murray also in the fray, Nadal would, of course, be aware of their eagerness to perform well in Rome as it is the last competition before the French Open. A solid performance here will help the players gain confidence.
However, this competition will be held without Federer, who is expected to feature in the French Open. Nadal has defeated top players on clay, but Federer will be a tough nut to crack in the second Grand Slam of the year.
Federer may not be the best clay court player, but with some good rest behind him his current form will make him one of the favourites in the French Open.
If there is any player who can stop Nadal on clay court this season, it is Federer.
Latest ATP rankings – Men's Singles

1.Andy Murray
2. Novak Djokovic
3. Stan Wawrinka
4. Rafael Nadal
5. Roger Federer