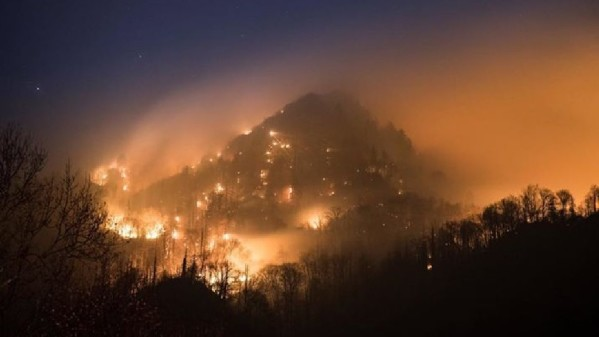 American music star Dolly Parton's Dollywood Foundation in Tennessee is helping all those families who lost their homes in the wildfire by donating $1,000 per month, the organisation announced on Wednesday.
The Gatlinburg Fire Department had ordered mandatory evacuations in the Tennessee mountain resort towns of Gatlinburg and Pigeon Forge after wildfires swept through the Great Smoky Mountain National Park. Fire crews were battling to contain around 14 blazes, but were hindered by wind gusts of up to 70mph. The fire department ordered the evacuations after the blaze became unpredictable and dangerous.
At least seven people have been killed. Officials state that hundreds of homes and businesses have also been damaged in the blaze leaving many homeless.
"As you may know by now, there have been terrible wildfires in the Great Smoky Mountains, the same mountains where I grew up and where my people call home. I have always believed that charity begins at home. That's why I've asked my Dollywood companies ... to help me establish the 'My People Fund'," country music star and Dollywood co-owner Dolly Parton wrote in a statement.
The Dollywood Foundation is accepting contributions for the relief fund in its website. More information about the donations will be divulged soon.
Meanwhile, nearly 24 hours of rain in the area has helped in dousing the wildfire which was spreading at a rapid rate and was getting out of control in eastern Tennessee. Soon after the run, the local officials began cleanup and recovery work in the region.
Gatlinburg Mayor Mike Werner said that discussions of reopening the resort city on Friday are underway. Werner said that the city has been shut since Monday night and reopening it soon will give the residents and business owners a first look of the damage that has been inflicted by the fire.
Werner has himself incurred a huge loss in the fire where he lost the home he had built himself along with all the seven buildings of his condominium business.
"I really can't dwell on it that much. I think of others that have lost theirs, and it keeps my mind off of our problems. It's really hard, it's really tough," an emotional Werner said.