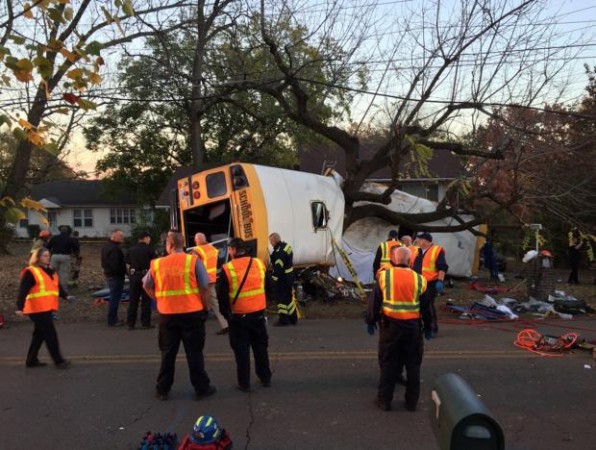 At least six children died when an elementary school bus smashed into a tree in Tennessee, the United States, on Monday. The bus driver has been arrested.
Hamilton County District Attorney Neal Pinkston said that five students of Woodmore Elementary School died at the spot, while one succumbed to his injuries at the hospital. The number of casualties was confirmed by the spokesperson for the district attorney, Melydia Clewell.
Police said the victims included students from kindergarten to the fifth grade, CBS News reported.
According to Chattanooga Police chief Fred Fletcher, there were around 35 students in the school bus when it crashed. Fletcher, in a press conference, said that the bus was the only vehicle involved in the crash. He also added that the crash was "every public safety professional's worst nightmare."
The Public Information Director of the Chattanooga Fire Department, Bruce Garner, said that at least 23 children were injured in the accident and have been rushed to Erlanger Hospital for further treatment.
Fletcher also said that the probable reason behind the accident was speeding since driving conditions were clear and dry. "Certainly, speed is being investigated very, very strongly as a factor in this crash," he said. However, he also added that the investigation is still at an early stage.
"A warrant has been issued to remove the informational box on the school bus and review the video," Fletcher said.
Meanwhile, bus driver Johnthony Walker, 24, has been arrested and charged with multiple counts of vehicular homicide, reckless endangerment and reckless driving.
Soon after the accident, a text message was sent to the parents in Tennessee's Hamilton County which read, "We just wanted to inform you that Hamilton County schools faced a great tragedy today. School and county personnel are on scene of a bus accident on Tally Road in Chattanooga. Extra counsellors and support staff will be on hand to help students process this horrible incident."