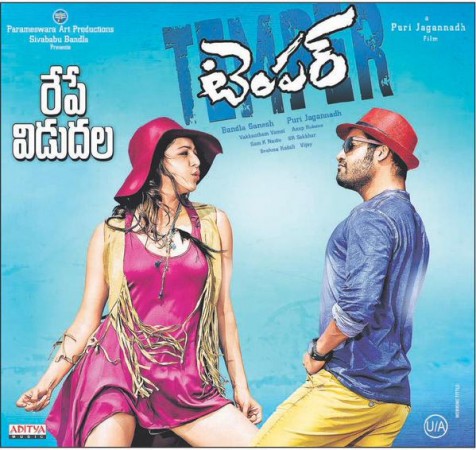 The much awaited Jr. NTR movie "Temper" has finally released. The movie directed by Puri Jagganadh was the most awaited movie for several reasons, one of them being Nandamuri.
The film has received some overwhelming response from Jr. NTR fans and critics have claimed that the actor has made a comeback with the film. Though the lead actor has been heaped with praises, the movie as whole has received only average reviews.
Most of the critics have claimed that the story and many scenes of the film looked predictable and repetitive.
In the movie Jr. NTR plays the role of a ruthless and corrupt cop but changes when he meets the character played by Kajal Aggarwal. How a change is seen in his attitude towards others and within himself forms the crux of "Temper".
Here are the reviews of "Temper" by various critics
NTR Jr makes a comeback of sorts with the film. To all those who complained that he had become too monotonous, Temper seems to be NTR's way of saying that he has decided to change his image slowly but steadily. Gone are long dialogues about Nandamuri vamsam, though he still says some heavy-duty dialogues nevertheless in a different style.
There was another film titled 'Pataas' that I had seen about a month back that talked of a corrupt police officer, who realizes his responsibility while solving a rape case. It's pretty much the same in 'Temper' except that you have an orphan instead of the son who pens a revenge on his father. There are not many situations in the film that you haven't seen in several other films (like; Rakhi, Gabbar Singh, Jagapathi, Lakshmi Narasimha etc) that have been molded on the same lines. There's nothing much to dwell on, when it comes to the storyline
NTR gives a performance of lifetime. He plays a character that transforms from a bad guy to a responsible man. And there are several phases in it and he has shown slight variations each phase perfectly. Loved his arrogance when he meets Prakash Raj for the first time. His performance in police station fight, court scenes, beach episodes and climax (all scenes in latter part of second half) is extraordinary. His dances movements for Temper title song are his best till date. NTR's conviction for a 6-pack look which appears for few seconds in a song stands as testament for his hard work.
First half of the film is just average. Had Puri brought in some basic entertainment values during this part, the output would have been even more effective. Kajal has absolutely nothing to do in the second half.
Story of the film is quite routine and gets predictable. Subjects like these have been dealt many a times in the past. Sonia Aggarwal is wasted in her role.
Puri Jagannadh is repeatedly failing as a director in recent times due to weak scripts. His decision to work with another writer brought back the best in him. Vakkantam Vamsi's story has emotional depth and Puri Jagannadh did very good job as a director in making the key scenes work. Puri is at his best in the scenes where hero transforms from bad to good. He also excelled as a dialog writer. He brought the best out of NTR and other actors. This may not be Puri's best work in his career, but will definitely be up there amongst his best works.
While the first half packs in some lame stuff, the second half is substantial enough to root for 'Temper'. NTR is made to do a bit of comedy (in one scene, he talks about 'manavathvam' is 'kukka thathvam'); Sapthagiri and Ali as petty thieves are seen in a thanklessly puerile comedy scene. Vennela Kishore gets to play a comical flutist, who is seen in a scene where double entendre is in your face. This is yet another Puri film very low on the comedy quotient. Some situational comedy here and there is forgettable.
Anup Rubens scored some catchy tunes but the song placements in the second half played a spoilt sport. Background music by Mani Sharma was not up to the standards. High moments in the second half gave some hooting moments for the masses. Editor S R Sekhar was good and the cinematographer Sam k Naidu was okay too.