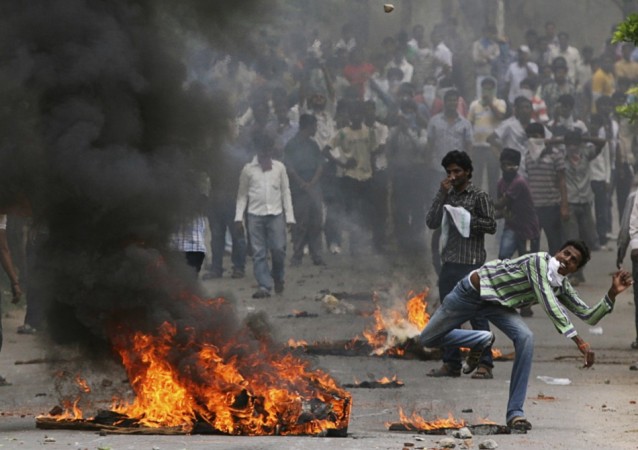 Amid tempers flaring in 13 coastal and Rayalseema districts of Andhra Pradesh, Union Tourism Minister K Chiranjeevi resigned from his post on Thursday to protest against the Cabinet's approval of the formation of Telangana.
Union Human Resource and Development minister, MM Pallam Raju, also submitted his resignation despite Prime Minister Manmohan Singh's advice of 'not to act in haste'. Kavuri Sambasiva Rao also announced his resignation as Union textiles minister.
According to reports, Congress MPs in Andhra - Kotla Jaya Surya Prakash Reddy (Kurnool), Vundavalli Aruna Kumar (Rajahmundry), Ananta Venkatrami Reddy (Anantapur), Sabbam Hari (Anakapalle) and Sai Pratap (Rajampet), have lined up to resign. Around 12 state ministers have submitted their resignation letters to Chief Minister Kiran Kumar Reddy.
On Thursday night, Chiranjeevi faxed his resignation to the PMO after Home Minister Sushilkumar Shinde announced the Cabinet's approval on the formation of India's 29th state. Chiranjeevi is scheduled to meet the PM on Friday.
Supporters of 'a United Andhra' had demanded the minister to quit, mounting pressure on the Centre to overturn their decision on Telangana, reported PTI.
The actor-turned-politician, whose Praja Rajyam Party (PRP) joined hands with the Congress government in 2011, hails from Coastal Andhra. At that time, his union helped the current CM gain majority in the state assembly. The move was to weaken the Telangana movement as Chiranjeevi was against the bifurcation Andhra Pradesh.
72-Hour Bandh
YSR Congress Party President Y S Jaganmohan Reddy called for a 72-hour bandh in the state against the cabinet's nod on Telangana.
He held the ruling Congress and opposition Telugu Desam Party responsible for the decision. TDP spokesman Payyavula Keshav told PTI, "Congress is stubbornly going ahead with the division of the state, overlooking concerns of people and the ongoing agitation for the last 65 days for a unified state. It has adopted a totally undemocratic and despotic attitude on the statehood issue."
Jagan also recalled that State Assembly resolutions were passed before the states of Chhattisgarh, Uttarakhand and Jharkhand were formed. Jagan has also demanded all Lok Sabha members from Seemandhra regions to quit their posts, to halt the formation of Telangana.