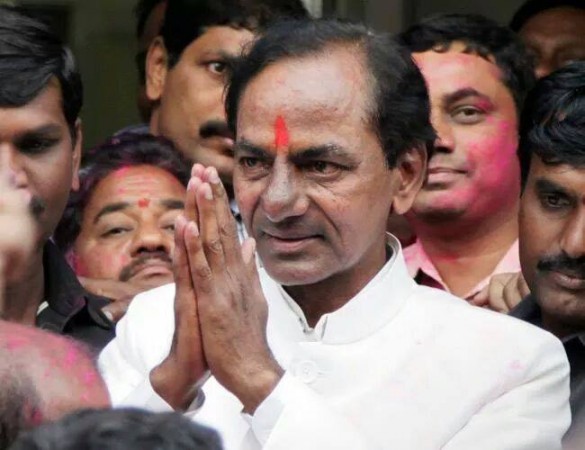 Telangana Chief Minister K Chandrasekhar Rao called the 'Intensive Household Survey' conducted across 10 districts on Tuesday a "super hit" success, and urged other chief ministers to commission similar surveys.
He further said the survey had shown a bigger population in the state than estimated earlier.
The survey, aimed at collecting details from 84 lakh households to ensure correct beneficiaries to welfare schemes, was criticised strongly for its potential to result in ethnic profiling in the newly-carved state, especially against Seemandhra residents in Telangana.
While several households were still to be covered on Tuesday, Rao said 90 percent households were covered in some districts, while in Hyderabad, more than 80 percent of the people had participated.
"This is a super hit survey. It has been successful beyond our expectations. This is an eye-opener for those who criticised (it). I sincerely and whole-heartedly thank all the employees and students for making the survey a big success," KCR was quoted saying by The Press Trust of India at a press conference.
KCR said the survey had come as an "eye-opener" to other states and even to the Centre.
"I would suggest other Chief Ministers in the country to undertake this kind of survey so that the statistics can be effectively used to implement developmental and welfare schemes. This is an eye-opener even for the Government of India," he said.
Another important fact that may have emerged from the survey is a bigger demographic figure, with KCR saying that the survey showed that the population in the state may be almost 4 crore, higher than the estimated 3.5 crore.
Hyderabad also may have a new demographic figure after the survey. "The current estimate of households in Hyderabad was put at 15 lakh. The survey so far suggested that it may cross 20 lakh and population can be in the range of 1.2 crore," said the chief minister.
KCR added that the Andhra Pradesh Chief Minister himself had participated in the survey.
"He (Chandrababu) is a resident of Hyderabad. He also gave his family details. His nephew and cine star Junior NTR also participated in the survey," Rao said.