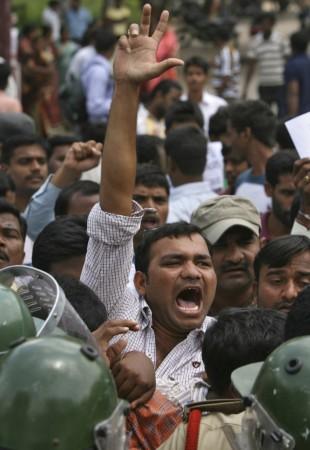 The Congress-led United Progressive Alliance (UPA) and the Congress Working Committee (CWC) are holding separate meetings on Tuesday to take a call on the demand for a separate Telangana state from Andhra Pradesh, but the government is facing a dilemma as their final decision could have huge repercussions.
The situation in Andhra Pradesh is very sensitive at the moment as there could be huge repercussions, irrespective of the government's decision on the issue.
Both pro and anti-Telangana leaders are currently camping in New Delhi to pressurise the union leaders ahead of the UPA and CWC meetings.
HRD Minister MM Pallam Raju, JD Seelam, D Purandeshwari and Panabaka Laxmi met Digvijaya Singh, All India Congress Committee (AICC) general secretary in charge of Andhra Pradesh to register their protest against the creation of a separate state.
Protests are being held in the state against the possible decision of the central government to bifurcate Andhra Pradesh into two states - Seemandhra and Telangana. Anti-Telangana groups are adamant on keeping the state undivided, and might severe agitation if the government decides to divide the state into two.
On the other hand, Telangana supporters may not compromise for anything less than their demand. Pro-Telangana organisations have said in the past that they would not accept the Srikrishna Committee's proposal of an autonomous council on the lines of Bodoland and Gorkhaland administrative system.
"I think the core committee has discussed the matter at length. And they are all worried about it that whatever decision that they may take is going to have a long-term implication on Andhra Pradesh. And that is exactly what we come to express our apprehension about with the general secretary," Pallam Raju, who hails from Seemandhra region, had earlier told Press Trust of India after a meeting with Digvijaya Singh.
Anticipating tension in the state in view of the announcement expected to be made by the UPA after the meeting, the Union Home Ministry has sent in an additional 1,000 paramilitary personnel to the state in case violence breaks out. 1,200 paramilitary personnel have already been deployed in Coastal Andhra and Rayalaseema regions.