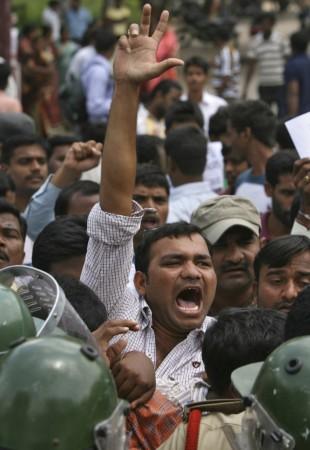 Congress Lok Sabha MP from Seemandhra region, Panabaka Lakshmi, clarified on Saturday that she would not follow her colleagues by resigning from the party.
Union ministers K Chiranjeevi (Tourism), MM Pallam Raju (HRD) and Kotla Surya Prakash Reddy resigned from their posts in protest to the Congress' decision on dividing Andhra Pradesh.
Party leaders Purandeswari and Kripa Rani from Seemandhra also announced their decision to resign along with few Members of Parliament, including VA Kumar, Sabbam Hari, KB Raju and RS Rao, on Saturday.
Lakshmi, who also holds an important portfolio in the petroleum ministry, said she would not quit from her post as she is a 'loyal' party worker. "I don't want to resign. That's their decision. I am Congress worker and I will oblige my High Command," she said.
Meanwhile, Congress legislators from Seemandhra have vowed to defeat the Union Cabinet's resolution to create a separate state of Telangana when it is introduced in the state assembly.
Passing a resolution by the Vidhan Sabha of Andhra Pradesh is not mandatory. But the states of Jharkhand, Chattisgarh and Uttarakhand were formed only after state assemblies passed a resolution on the issue.
"Come what may, we have decided to oppose and defeat the resolution on Telangana state formation in whatever form and whenever it reaches the state assembly," S Sailajanath, state minister and convenor of Seemandhra Congress Legislators' Forum told The Times of India on Saturday.
The legislators have decided not to resign from their posts till the resolution is defeated in the assembly, Sailajanath said.
Jagan on Indefinite Fast
YSR Congress party president YS Jaganmohan Reddy maintained his fast unto death for the second day at his Lotus Pond residence in Hyderabad.
On Saturday, Reddy had questioned the Congress' inability to reverse their decision on Telangana when it was possible to reverse the Cabinet's decision on the ordinance on convicted politicians.
He said his party would challenge the Centre's decision on Telangana in the court. He accused the Congress-ruling UPA of playing a vote-bank politics. "Nobody is talking about Bodoland (Assam), nobody is talking about Gorkhaland (West Bengal) then why Telangana should be formed," he told ANI.
Click here for Jaganmohan Reddy's interview on the first day of his fast-unto-death.