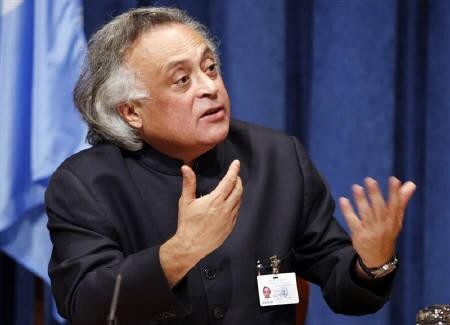 A gazette notification on the creation of Telangana state out of Andhra Pradesh may be issued within five days, said Jairam Ramesh, India's Union Minister of Rural Development, on 26 February 2014. A new capital city to Seemandhra will be decided within the next six months, once the President notifies the creation of separate Telangana State, he added.
He told this to the media in Tirupati after visiting the Tirumala deity Sri Venkateswara. The Minister urged people in AP to maintain peace and co-operate with the Centre for the smooth bifurcation of the two states.
Seemandhra will be the residual region of AP with 13 districts, once Telangana is carved out of Andhra Pradesh. The Indian Parliament recently passed the bill to form Telangana state out of AP and it has been waiting for the President's assent.
An expert committee will be appointed by the Centre to decide Seemandhra's new capital out of Visakhapatnam, Guntur, Kurnool, Tirupati and Vijayawada.
The Centre will strive to establish educational institutions like IIT, IIM and central universities and develop key sectors like agriculture in Seemandhra. On the lines of All India Institute of Medical Sceince, New Delhi, new hospitals will be established in Seemandhra, Ramesh said.
Ramesh, who is from AP's Adilabad district and an economist, said that the Centre will bear all the expenditure to build the Polavaram irrigation project in the region. The Union government will also help Seemandhra build other key irrigational projects like Galeru, Nagari, Handrineva.
As Prime Minister Manmohan Singh promised in the Rajya Sabha, the Planning Commission will take appropriate measures to develop Seemandhra economically, Ramesh said. To look after budget affairs of Seemandhra, the Planning Commission has constituted a special committee and it will start working from next week, he said.
Tirupati airport will be upgraded into an International airport. Duggrajapatnam port, Visakhapatnam - Chennai Industrial Corridor, Chennai - Bangalore Industrial Corridor via Chittoor in Seemandhra, will also be developed, he said.
The Centre will take three months to share the AP's state employees, assets, loans and liabilities among the two proposed new states - Telangana and Seemandhra. Two separate committees have been constituted to divide the 84,000 AP employees among the two new states. One committee will divide AP State cadre officers and other will divide the All India Service Officials, the Minister said.
He said that the caretaker Chief Minister N Kiran Kumar Reddy has crossed the limits laid by the Congress Working Committee. "Now, in the state politics, Chiranjeevi will remain as the opening batsman," he quipped hinting at bigger role for the Telugu Megastar, reported eenadu.net.