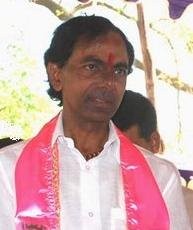 Telangana Chief Minister-designate and Telangana Rashtra Samiti (TRS) president K Chandrasekhar Rao has threatened that once he takes charge as Chief Minister, he will not release salaries to employees whose origin is Andhra Pradesh/Seemandhra.
Rao is set to take oath as the Telangana CM on 2 June at 12.57 pm in Raj Bhavan. KCR has reportedly said that he will ask the government of Seemandhra to withdraw all Seemandhra-domicile employees from Telangana.
Reports claim Rao is particular about retaining only Telangana-domicile employees in the region, and those who have origins is Andhra Pradesh should leave Telangana.
Rao is understood to have stated that the domicile of every employee on Telangana state roll would be ascertained and, a list of employees, whose origin is Seemandhra, will be made and will be sent to the government of Seemandhra, asking it to withdraw them from Telangana region.
If the Seemandhra government does not do so, the Telangana government will not pay the salaries of the employees originating from Seemandhra. And such employees will not be allowed work in Telangana, KCR has reportedly stated at a meeting of Telangana state employees.
KCR's statements have escalated tensions among the state employees, whose origin is Seemandhra.
Meanwhile, the Andhra Pradesh government, now being headed by Governor ESL Narasimhan, has submitted details of all state employees to the Union government, to allocate high officials and staff to Telangana, which is slated to be announced as a new state on 2 June.
Reports claim that the Central government committee will allot posts to the employees and issue orders to them to work in Telangana from the Appointed Day. The committee has stated that the government employees in districts and zones in Telangana will continue to work on 'as is where is' basis.
KCR's Family Members to Become Ministers
Rao is working on his council of ministers, and his son K Taraka Rama Rao and close relative Harish Rao are expected to get ministerial posts in the new Telangana government.
Others who will probably get ministerial posts are: Etela Rajender (Finance and Education portfolios), MM Ali (Deputy Chief Minister). T Rajaiah, C Lakshma Reddy, Konda Surekha, S Jagadeeshwar Reddy, Pocharam Srinivasa Reddy, T Chandu Lal, K Swami Gowd, V Srinivasa Gowd are also likely to make it to the council of ministers.
KCR is likely to retain the key portfolio - home ministry, according to media reports.
Meanwhile, a farewell meeting was held in the united Andhra Pradesh Legislative Assembly on 23 May, where Speaker Nadendla Manohar presided. The Speaker recalled the challenges the house faced in the term of the 13th state Assembly.