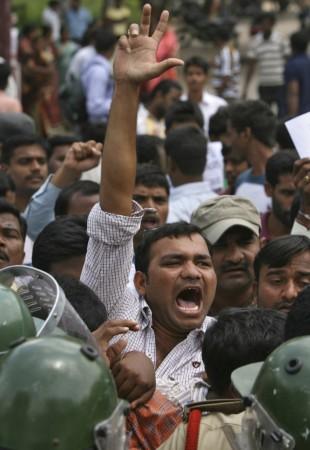 The Telangana Rashtra Samiti, which is spearheading the Telangana secession campaign in Andhra Pradesh, threatened Monday to stall proceedings of the winter sessions of the Assembly.
The TRS leader, K.T. Rama Rao, borrowing a page from Uttar Pradesh Chief Minister Mayawati's call to separate her state into four smaller ones, has demanded that the Congress and the Telugu Desam Party unequivocally support the Telangana cause; something which, he claims, they promised to do. Failure to do so, Rama Rao implied, could lead to obstruction of Assembly proceedings, scheduled to start on Dec. 1.
Rama Rao, who participated in the Telangana Sadhana Yatra, reminded the central government that they must make efforts to introduce the bill during the forthcoming winter session of the Parliament, adding that neither he nor his party would back away from the fight for a separate state.
In addition, he said the TDP's no-confidence motion against the Congress in the state was purely to help the former bargain with the state's Chief Minister, Nallari Kiran Kumar Reddy, and stall a Central Bureau of Investigation probe against TDP chief N. Chandrababu Naidu.
However, Rama Rao noted that "the TRS was ready to pull down the undemocratic Nallari Kiran Kumar Reddy's government" and "if the TDP was really sincere on the issue", his party would support the motion.
Earlier, Rama Rao had also criticized Indian Prime Minister Manmohan Singh's statement on the issue, saying that the central government had failed to note the democratic aspirations of people in the region and also accused the Congress of unnecessarily complicating the issue.