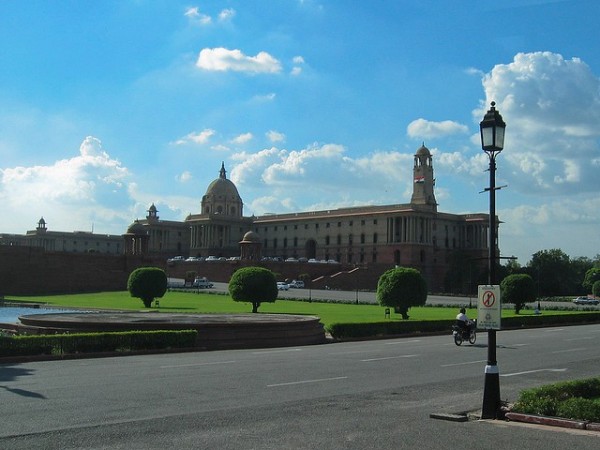 Amidst uproar in the Lok Sabha over the Centre's move to suspend 11 members who are protesting the formation of Telangana, Telugu Desam Party MP Naramalli Sivaprasad started whipping himself outside the Parliament in protest against the bifurcation of Andhra Pradesh.
The motion by the Congress demanded suspension of 11 members of Parliament; seven members belonging to its own party and four MPs from the TDP. Just after the motion was sought by Parliamentary Affairs Minister Kamal Nath, Opposition along with Left parties stood against the move.
"I oppose the minister's(Kamal Nath) motion seeking to suspend some MPs from the House," Leader of Opposition in Lok Sabha Sushma Swaraj said.
The protest by various political leaders lead to a commotion till Speaker Meira Kumar adjourned the house for a second time.
As per ANI reports, TDP MP Sivaprasad lashed a whip attack on himself on Thursday afternoon outside Parliament.
Sivaprasad along with three others from the Seemandhra region have been persistent in lodging a protest against the bifurcation of Andhra Pradesh since the Monsoon session began.
On 12 August, Sivaprasad was dressed in the garb of Krishna with a garland. He had worn a crown and held a flute with the symbolic Sudharshan Chakra, to protest against the Congress endorsement of Telangana. The TDP leaders stormed the well on that day as well and the LS Speaker had to adjourn the house.
Next day, four lakh government employees in Andhra, especially belonging to Rayalaseema and Seemandhra regions, stepped out on the streets against the formation of Telangana.
The house was disrupted on Thursday and the four TDP leaders continued to protest.
"The house has not functioned properly since day 1. Am very disturbed & upset about it. We have so much work pending," Speaker Meira Kumar told ANI news.