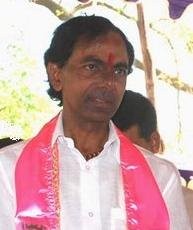 Telangana Rashtra Samiti (TRS) president, Kalvakuntla Chandrasekhar Rao (KCR), who took over as the first Chief Minister of Telangana on 2 June, has allotted portfolios to his 11-member council of ministers. All of them were swore-in as ministers along with KCR on Monday.
The Chief Minister has retained with him the portfolios of Welfare, Power and General Administration and has made two of his colleagues his deputy chief ministers.
KCR's son K Taraka Rama Rao has been allotted the portfolio of Information Technology and Panchayatraj, while Harish Rao, who is the new CM's nephew, has been allotted the Irrigation portfolio.
KCR vowed to show zero tolerance to political corruption in the state and has also given impetus to strengthen the state's financial position. He added that his government will strive to make Hyderabad a slum-free city and develop it to international standards.
Here are the portfolios allocated to the 11-member council of ministers in Telangana:
Mahamood Ali: Deputy Chief Minister and Minister for Revenue Department
T Rajaiah: Deputy Chief Minister and Minister for Medical Affairs and Health
N Narasimha Reddy: Home Minister,
E. Rajender: Finance Minister
K. Taraka Rama Rao: Minister for Information Technology and Panchayatraj
Harish Rao: Minister for Irrigation
P Srinivas Reddy: Minister for Agriculture
T Padma Rao: Minister for Excise
P Mahender Reddy: Minister for Transport
Jogu Ramanna: Minister for Forests and Environment and
G Jagadish Reddy: Minister for Education.
Another senior TRS leader K Keshava Rao has been elected as Parliamentary Leader of the party. He deserted Congress and joined KCR-led TRS when the movement for separateTelangana state was at its peak.
Sonia wishes Telangana people:
Meanwhile, president of Congress, which faced a humiliating defeat in the last general election, congratulated the people of Telangana on the formation of the new state.
Sonia Gandhi claimed that it was her party, which at last reorganized the Andhra Pradesh State into Telangana and Seemandhra.
In a message, the Congress president said that Congress decided to reorganize AP in 2013 to fulfil the democratic aspirations of Telangana residents.
She said that AP's reorganization will bring new development and investment opportunities to both Telangana and Seemandhra.
Congress is committed to welfare of both the states and play a supportive role to ensure that the two states progress in a spirit of harmony and cooperation, she said.