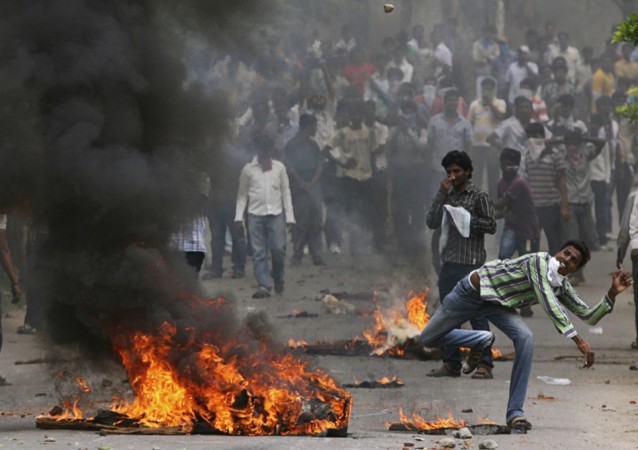 As the protests entered the fourth day in Andhra Pradesh's Seemandhra region, Congress accused its own Chief Minister Kiran Kumar Reddy of provoking violence in the state.
Congress leader Ponnam Prabhakar Goud, who is a Lok Sabha MP from Karimnagar constituency, has alleged that the CM had a hand in the brewing tensions in the region.
"The unrest in Seemandhra region is happening on direction of our Chief Minister. Even the (Congress) high command knows it. Let us see what happens," Prabhakar told ANI.
On Friday, YSR Congress president YS Jaganmohan Reddy had called for a 72-hour shutdown in Seemandhra to protest for a 'United Andhra' cause.
On Sunday, curfew was imposed in various parts of Vizianagaram district as anti-bifurcation protests turned violent when demonstrators clashed with the police.
Shoot-at-sight orders were issued in the coastal district as protesters had blocked roads and highways. According to Indian Express, YSRCP workers targeted the properties of Pradesh Congress Committee (PCC) chief Botsa Satyanarayana.
Police fired rubber bullets in Kothapeta and Gujulrega, outskirts of Vizianagaram, to disperse an angry crowd that was about to torch Satya College, run by Satyanarayana's brother.
Around 20 policemen were injured in the clashes and over 100 pro-united Andhra protesters were taken into custody for allegedly indulging in the violence.
The strike by electricity employees caused power outages in the state on Sunday, affecting hospitals and emergency services. Several passenger trains of the South Central Railway were cancelled.
Congress Spokesperson Digvijaya Singh reacting to the protests said on Twitter, "Appeal to AP Govt employees to suspend their strike and resume their duties. They are losing their salaries and causing hardship to people. Assure all Seemandhra people of their genuine concern of Security in H'bad Education, Health Employment and package for Development."
Jagan's 'fast-unto-death'
YSRCP chief Jaganmohan Reddy, who had launched an indefinite fast over Cabinet's decision to create a separate state of Telanagana, underwent a medical check-up in Hyderabad on Monday.
Telugu Desam Party (TDP) chief Chandrababu Naidu will also begin an indefinite fast over the state's bifurcation in Delhi.
"Congress has to open its eyes. You (Congress) have to do justice to both sides. That is why I am going to Delhi to sit on a fast," he said.
Congress leader Ponnam Prabhakar said, "Both (Jagan and Chandrababu Naidu) are doing drama. We will not go back on our word."
Earlier, Congress Spokesperson Digvijaya had accused Jagan and Naidu of changing their statements post Cabinet's nod to divide the state.
"Surprised with the turn around of Chandra Babu and Jagan. Both had given support to Telengana in writing. Amazing Political Opportunism!" he had tweeted.
Click here Congress leader Ponnam Prabhakar's interview.