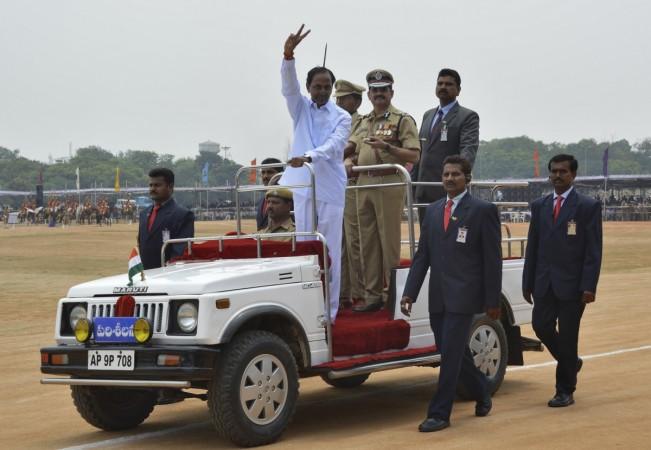 Telangana Chief Minister K Chandrashekar Rao took on a vicious fight with the media, warning it against disrespecting 'Telangana Culture' and threatened to bury flouting mediapersons "10 km deep in the ground".
"I am ready to bear any insult. But I will not tolerate if anyone shows Telangana and its culture in poor light," KCR said at an event that marked centenary celebrations of veteran Telangana poet late Kaloji Narayana Rao in Warangal on Tuesday. "If you demean our culture, you have no place here. I am saying this as the Chief Minister," he said.
KCR also gave a regional tone to his attack on the media, alleging that "Andhra media was deliberately writing against Telangana" and warned that if they wanted to work on Telangana's soil, they should "learn to respect the local culture, language and traditions."
Journalists of two regional news channels from the state have been protesting against the blackout of their TV signals by cable operators.
KCR defended the action of the operators in blocking the channels, saying he cannot "tolerate humiliation of MLAs" by the media.
"I salute the operators for blocking the channels. If anyone indulges in this kind of vicious campaign against Telangana they will be buried alive. I can tolerate criticism against me, but I cannot tolerate it if it is done against the Telangana people and elected representatives," KCR fumed.
"Passing insinuating remarks against MLAs is objectionable. The entire Telangana Assembly condemned it and wanted the Speaker to initiate action. How can anyone tolerate such humiliation by the channels? What right do they have to insult us?" he was quoted saying by Deccan Chronicle.
The two news channels, TV-9 and ABN Andhra Jyothi, have reportedly been blocked for several weeks now.
The CM also questioned the 'freedom of the press', and hurled scathing remarks at the media. "You insult public representatives branding them as drunken monkeys, you describe them as lumpens and you call every name you like. What sort of freedom is it and what sort of culture is it?" he said.