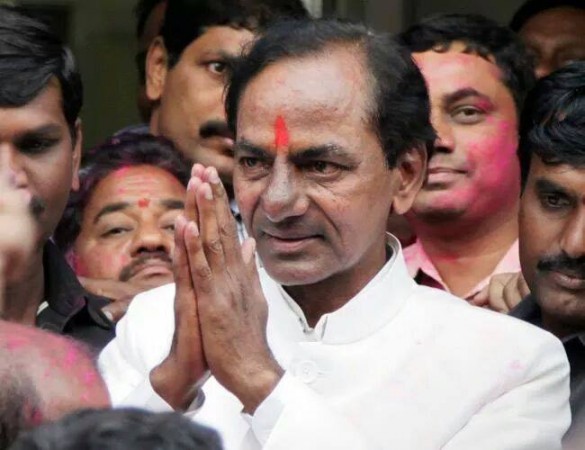 Farmers' loans below Rs 1 lakh will be waived off in Telangana within 12 days, said K Chandrasekhar Rao (KCR), the Chief Minister of the 29th new state of India.
KCR announced this news on Wednesday, after holding a meeting with top bank officials in Hyderabad. He asked the bankers to submit all details of farm loans to the state government.
The Telangana Rashtra Samiti (TRS) chief had promised during the election campaign that he would implement the scheme once he becomes the Chief Minister. KCR also announced that he would implement all the schemes TRS promised during the elections.
KCR stated that the state will write off farmers' crop loans to the tune of Rs 12,000 crore, covering 23 lakh farmers. Meanwhile, according to a clarification by Telangana finance minister E Rajender, the farm loan waiver applies only to the loans availed by farmers during 2013-14 financial year.
Scrapping road tax for autorickshaws and providing two-bedroom homes to weaker sections are the other main schemes KCR announced to implement prominently. Applications have already been invited for the first 5,000 houses, the TRS chief added.
Providing free education from kindergarten to postgraduate level, paying of old age pension of Rs 1,000, and Rs 1,500 for handicapped are some other schemes KCR promised to implement in the new state.
Also, the state government will create 14 more new districts, making Telangana a 24-district state. Telagana was carved out from Andhra Pradesh with 10 districts.
Telangana Information Technology minister KT Rama Rao stated that shutdowns and protests would not bother the new state from here onwards. Shutdowns were organised to achieve the new state and that purpose has been served, he added.
Now, the new government will concentrate on development. Rama Rao vowed to enhance the image of Hyderabad as an IT hub.
Meanwhile, a delegation of Telugu Desam Party (TDP), led by Yanamala Ramakrishnudu, met state Governor ESL Narasimhan on Thursday, and claimed to form the government in the residual Andhra Pradesh in Hyderabad.
The delegation urged the Governor to invite their Legislative Party leader Nara Chandrababu Naidu to form the government in AP. Naidu was unanimously elected TDP Legislative Party leader in Tirupati on Wednesday.