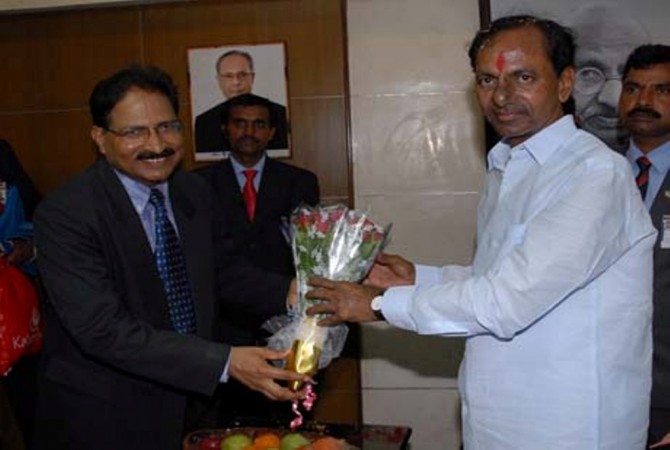 Telangana Chief Minister K Chandrasekhar Rao (KCR) on Wednesday held a five-and-a-half hour meeting of cabinet ministers and cleared 43 decisions, including farm loan waiver up to Rs 1 lakh and Kalyana Lakshmi scheme, under which brides of Dalit and Girijan sects will be paid Rs 50,000 cash in marriage.
The Chief Minister asked agriculture and revenue departments to work out modalities to implement the farm loan waiver scheme.
KCR stated that all cases booked against activists and students in the Telangana movement since 2001 would be cancelled immediately. Several cases were registered against KCR himself, who was the leader of Telangana movement.
The CM also stated that services of all contract employees in the Telangana government would be regularised.
Here are the key decisions of the meeting:
Farm loans will be waived off up to Rs 1 Lakh. Agricultural loans on gold mortgage will also be included. With the loan waiver, 39,07,409 families would benefit. The government will face the burden of Rs 17,000 crore to Rs 19,000 crore on exchequer.
Rs 10 lakh compensation to martyr families, who sacrificed lives in the Telangana movement since 1969.
From Dasara, new pension scheme will come into force. Rs 1000 pension will be paid to senior citizens and widows. Rs 1,500 pension for physically challenged.
Brides of SCs and STs will be paid Rs 50,000 in marriages.
Tax has been abolished with immediate effect on autos, tractors and trolleys.
The state government will reimburse fee only to Telangana students. Existing fee reimbursement is quashed. The Chief Minister said the scheme will be implemented on the basis of nativity with 1956 as the cut-off date.
The state government employees' salaries will be paid on par with central government employees.
Commemorating Telangana formation, increment will be paid to all state employees.
The government will allot three acres of land to poor SC families.
For Muslims, Rs 1,000 crore special budget would be set apart. Extra protection to Wakf lands.
A master plan to be prepared to develop Hyderabad into a worldclass city. Consultants to be appointed.
Rs 6.50 crore allocation to waive off loans of power-loom workers.