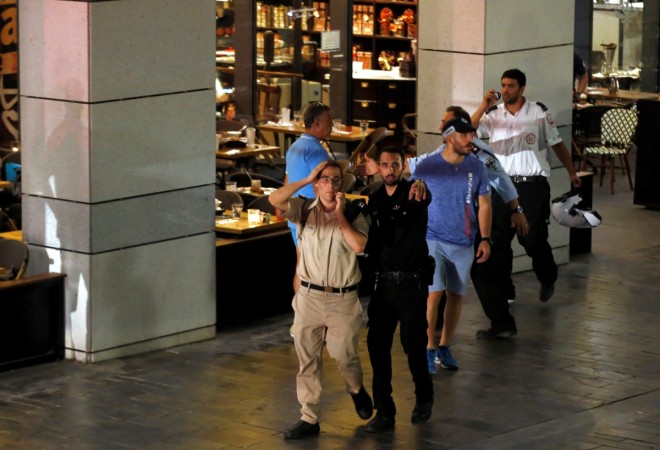 Update: 12:31 p.m. IST — Following the Tel Aviv shooting, which left four people dead, Israel on Thursday announced that it had "suspended" entry permits for about 83,000 Palestinians during the month of Ramadan. In addition, about 200 Gaza residents, who earlier had permits to visit their relatives during the Islamic holy month, would now have "access frozen," Khaleej Times reports.
Original story —
At least four people were killed and six others wounded after two Palestinian attackers open fired at a shopping centre Tel Aviv. The local police said the two gunmen were captured, Reuters reported. One of them is in custody and the other, who was wounded in the incident, is in a hospital, BBC reported.
The gunmen were from Yatta, which is a Palestinian village near the West Bank town of Hebron, the police sources added.
They had carried out attacks at two locations, close to Israel's defence ministry and main army headquarters. According to a security footage retrieved by the police, the two men were dressed in suits and ties. They posed as customers before taking to weapons and open firing.
The footage also shows people fleeing the scene and ambulances arriving. Pictures show turned tables and chairs at one restaurant.
The attack took place around 9:30 p.m. local time (1830 GMT), as diners were enjoying their meal at the upmarket Sarona complex.
"We ran like lightning with the baby and the stroller. I yelled at people who didn't understand what was happening to run," Meital Sassi, one of the witnesses was quoted as saying by the BBC.
Prime Minister Benjamin Netanyahu, who visited the scene of crime late on Wednesday night, called it "a savage crime of murder and terrorism," CNN reported.
Over the past eight months, there has been an increase in Palestinian attacks on Israelis, with a number of shootings, stabbings and car rammings.