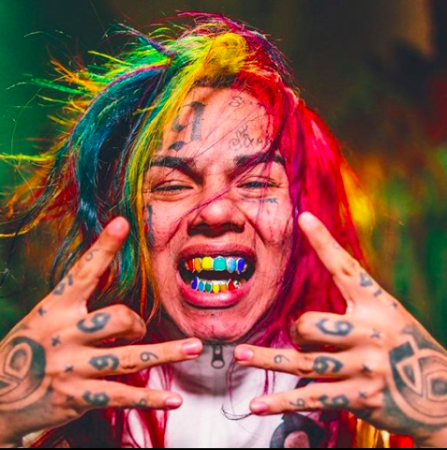 Daniel Hernandez, known professionally as Tekashi69 or 6ix9ine, and his three associates are facing a mandatory minimum sentence of 32 years in prison on federal charges including alleged racketeering as well as a previously unreported armed robbery.
The 22-year-old Daniel Hernandez was in limelight in 2017 after one of his Instagram posts went viral, where his eccentric appearance turned into him an internet meme. Post that, his commercial debut single "Gummo" was released and became #12 on the US Billboard Hot 100 in 2017. Shortly afterwards, he announced his debut mixtape, Day69, which debuted at number four on the Billboard 200 album chart with 55,000 album-equivalent unit.
However, apart from his songs, Daniel Hernandez is known for his legal issues. As per records, he had spent time in Rikers Island for selling marijuana. His criminal behaviour has remained the talk of the media, most notably relating to an alleged child sex case from 2015.
Back in 2015, Tekashi69 pleaded guilty to one felony count of use of a child in a sexual performance. 6ix9ine was later arrested in 2018 in New York for an outstanding warrant related to an incident where he allegedly choked a 16-year-old in a mall in Houston.
Earlier Sunday night, the famous rapper was arrested and now faces federal charges including racketeering allegations.
"As alleged in the indictment, this gang, which included platinum-selling rap artist Tekashi 6ix 9ine, wreaked havoc on New York City, engaging in brazen acts of violence," U.S. Attorney Geoffrey S. Berman said in a statement. "Showing reckless indifference to others' safety, members of the gang were allegedly involved in robberies and shootings, including a shooting inside the crowded Barclay's Center, and a shooting in which an innocent bystander was hit."
As per Assistant US Attorney Michael Longyear, "[Hernandez] is a member of a violent sect of the Bloods. This defendant participated in multiple acts of violence."
At the same time, Daniel Hernandez's attorney's request that the rapper will surrender his passport, pay over a million dollars for bail, and be placed under house arrest was denied by the judge, reports Rolling Stone.
Along with Tekashi69, his associates Kifano "Shottie" Jordan, Faheem "Crippy" Walter, Jensel "Ish" Butler and Jamel "Mel Murda" Jones — were also arrested and reportedly facing many of the same charges.