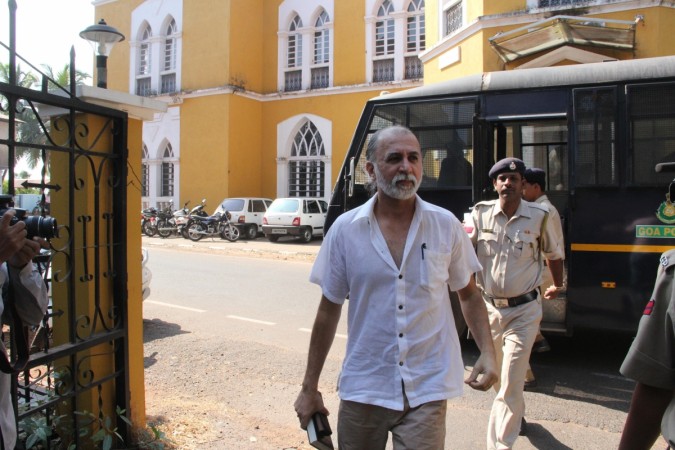 Tarun Tejpal, the former editor of investigative news magazine Tehelka, has been charged for several crimes, including rape, in a case where he was accused of sexually assaulting a female colleague in a hotel elevator in north Goa.
Tejpal has pleaded not guilty to any of the charges slapped on him by the Goa court that is hearing the case, his lawyer has said.
The court charged Tejpal with rape, sexual assault and outraging the modesty of a woman and even rejected his petition to defer framing of charges by a month.
The court has also refused to accept his plea on appearing for court proceedings in person.
The journalist said in court that the allegations against him were "absolutely false." He has even appealed to the Bombay High Court to get the case dropped.
Meanwhile here are the highlights on this case:
* Earlier this week, the Bombay High Court agreed to hear Tejpal's petition to dismiss the case on November 1, but refused to stall the framing of charges against him.
* The trial court in Mapusa, Goa, has sought a status report on the case by November 21 based on the proceedings that took place in the high court.
* Tejpal faces charges under Sections 341 (wrongful restraint), 342 (wrongful confinement), and 376 (rape) of the IPC. An additional under Section 354 (b) (criminal assault with intent to disrobe) has been added.
* A woman journalist had in November 2013 accused the Tejpal, then 50, of sexually assaulting her in an elevator of a five-star hotel during the ThinkFest conference in Goa organised by Tehelka. She quit her job the same month.
* Tejpal had then stepped down as Tehelka editor for six months but he was arrested on November 30, 2013.
* The police said CCTV footage supports the woman's allegations against Tejpal.
* In a chargesheet filed with a Goa fast-track court, the police said Tejpal had assaulted the junior journalist twice and there was enough evidence to prove the charges against him.
* The former editor said in court that the allegations were "absolutely false" and were motivated by "political vendetta".
* When the district court in Mapusa, Goa, refused to drop charges against Tejpal, he moved the Bombay High Court.
* He was at the Sada sub jail at Goa's Vasco for six months before the Supreme Court granted him bail in July 2014.