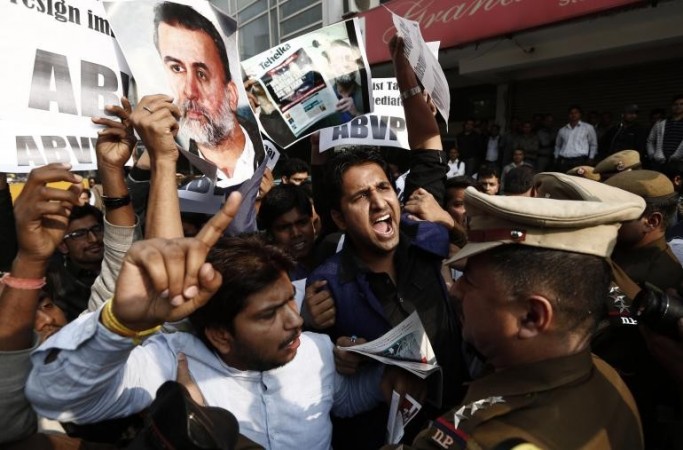 After Shoma Chaudhury resigned as Managing Editor of weekly magazine Tehelka, Bharatiya Janata Party (BJP) workers in Delhi staged a protest outside her house on Thursday.
The protestors shouted out slogans such as 'Shoma Chaudhury Murdabad' (Down to or Death to Shoma Chaudhury) outside her residence.Vijay Jolly, vice president of Delhi BJP wing, defaced the name plate Shoma and wrote 'accused' in black ink saying, "I will do this 1000 times."
Former Editor-in-Chief Tarun Tejpal, who has been accused of sexually assaulting a journalist, had blamed BJP government of Goa in his bail plea for targeting him by registering suo moto FIR against him in the state.
"We are not politicizing the issue," Jolly told ANI.
Another BJP leader Siddharth Nath Singh blamed the investigative magazine of being Congress' mouth piece. "Congress leaders Digvijay Singh or Kapil Sibal, the way they respected terrorist by calling Osama bin Laden as Osamaji, its the same way Digvijay is calling 'Tejpalji'," Siddharth said.
Meanwhile, the Delhi High Court had deferred its decision on the anticipatory bail plea filed by Tejpal till Friday. However, he withdrew his plea on Thursday saying that his lawyers will appeal for a bail in Goa court instead.
Tejpal had been summoned by the Goa police to appear before investigation officer for questioning at 3pm at CID crime branch office in Panjim, Goa.
Tejpal reasoned saying, since he was a resident of Delhi and was told about the summoning on Wednesday, he would need more time to appear before the investigation officer Sunita Sawant. Tejpal also asked to appear for questioning on Saturday afternoon instead.
Below are the latest reactions to Shoma Chaudhury's resignation letter.
Annie Raja, social activist: "She was responsible for tarnishing the girls image and making issue so public," she told ANI
Kiran Bedi, social activist and former IPS offcer: "A Wise Man does at once what the Fool Does Finally"Machiavelli. (Applicable in #Tehelka case.Except that its being Foolish+Criminal Twice). Shoma continues to defend herself on TV. She does not understand,more she speaks the more she will b cross examined later for contradictions," she tweeted.
She later told ANI, "She (Shoma) probably knows how to comment on others but did not know how to handle her own issue."
Siddharth Nath Singh, BJP leader: "Shoma Chaudhury's resignation has come late, she should have resigned long time back," he told ANI.
Nirmala Samant, member of National Commission for Women: "Shoma might fear arrest since anticipatory bail has not been granted to Tejpal and Goa Women's Commission asked for her arrest. Shoma's resignation shows that she doesn't even want to cooperate with the police. Her statements were not supportive. Shoma is guilty of suppressing the evidence, which is an offence in Indian Penal Court, she must be adviced to dissociate."
Goa State Women's Commission: "Shoma can't run away. She is responsible for the incident and for spoiling the image of the victim. The Goa police is also demanding her arrest."
Dibang, senior journalist: "Tehelka Managing Editor Shoma Chaudhury resigns #TOOOlate Must reconsider her recent positions and clarify."
Rita Putatunda, writer: "Shoma Chaudhury 's resignatn&playing victim drama,blaming media for being"slelective"laughable-Has she ever bn selective,she must introspect. Wasn't Shoma Chaudhury 's veiled insinuations abt the "other version" & threat to reveal all the emails to prove that point selective? projecting a "selective" version to the media in order to protect her own financial interests,wasn't Shoma Chaudhury being slective?
Kanchan Gupta, journalist and political analyst: "Who exactly will accept and act on Shoma Chaudhury's resignation? Tarun Tejpal has 'recused' himself. Tehelka was a one person show. To accpet Shoma's resignation Tarun Tejpal would have to unrecuse himself. That would be against her adamantine feminist principles. So will Shoma Chaudhury send herself a resignation mail, then reply to herself saying 'accepted'? What a farce, and we clap!
N Ram, Editor, veteran journalist: "Shoma Chaudhury is a well informed person, knew the amended law, no excuse for her to not have taken action. There is no excuse for what she did. This is disgraceful, there will be legal repercussions. Tehelka is in trouble. This could be the last nail...I hope not. I am sure Tarun Tejpal will be arrested. People have been arrested for much less. Police has done a thorough job."
Neerja Chowdhury, senior journalist: "The case is strong in itself. It is a public issue, politicising Tehelka case is wrong."
Abha Singh, lawyer: "Shoma can be arrested by new guidelines because she did not report it to the police. It depends on Goa police to decide her role."