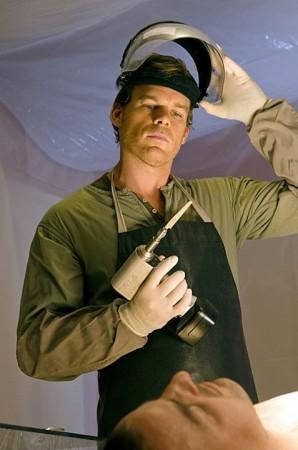 A 16-year-old British boy, obsessed with the TV series "Dexter", was jailed after he killed his girlfriend by stabbing her and then dismembered her body.
Steven Miles, who murdered 17-year-old Elizabeth Thomas in his residence in Oxted, Surrey on 24 January, has been jailed for 25 years, according to the Mirror.
Miles stabbed Thomas in the head and neck, and went on to dismember her legs and arms. The report claims that he wrapped up her limbs in cling film and put them in bin bags. Miles then covered Thomas' body in green plastic garden sheet.
Miles reportedly used to tell his family that he had an alter ego named Ed, who instructed him to kill someone. He told his sister after the murder that "Ed made me do something wrong".
According to the hearing at Guildford Crown Court, Miles wanted to copy the actions of Dexter, who is a police forensic officer as well as a serial killer in the series. The court also heard that the accused had a fascination for horror movies.
"This is a case of the utmost gravity, the horrific features of which are rarely heard in any court," pointed out Judge Christopher Critchlow.
The Judge even stated that he would have given life sentence to the accused but he could not as Miles is a minor. He further noted that according to psychiatrists, Miles was not a schizophrenic.
"It's chilling to read that you described her on occasion as your project," the Judge told Miles.
Lewis Power QC, who was defending Miles, admitted the murder was a "chilling, blood-curdling and sustained" killing, inspired by "Dexter".
Miles apparently used saws and tools from his father's tree surgery business to dismember Thomas' body.