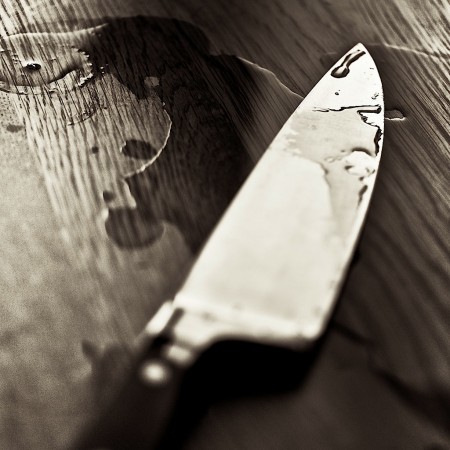 A teenage girl from Alamnagar in Madhepura district of Bihar, aged about 17 years, got the ultimate revenge after her uncle tried to rape her for a second time.
She is said to have chopped his penis off, India Today reported.
The teenager's mother reportedly asked her brother-in-law, Mahendra Mehta, for help when the teen fell ill, hoping that, being a tantric (practitioner of a style of meditation and ritual which arose in India no later than the 5th century AD) he could cure her with ancient rituals and meditation.
The 35-year-old man claimed that the girl was under some supernatural power, and then proceeded to take her into another room where he restrained and raped her "to get rid of her spirits". As she did not tell anyone about the incident and since Mehta is a trusted member of the family, nobody suspected a thing.
When her uncle tried to rape her a second time though, she was prepared. She went to his house with a cell phone and armed herself with a knife. After recording the conversation in the phone, when he attempted to rape her, she cut off his penis and fled.
Although the family attempted to keep the incident under wraps, the teenager reported what had happened to a village council. The council failed to provide any reassuring service and so, she contacted women police officers, located at the local station and reported the crime.
Senior officer AK Singh, superintendent at the Alam Nagar police station, told The Independent that the "tantrik" had clearly abused his position as a member of the family and her trust.
"The incident happened 20 days ago. Initially the girl went to the [village council] but when that was unable to resolve the matter the case was brought to me," said Singh. "We then filed a case at the women's police station."
He went on to say that, "We should applaud her bravery and courage."
It is not just the police officers who have been impressed with the girl's quick thinking and applauded her bravery.
Awesome! Poetic Justice Served! ;) "He gagged and raped her in his house to rid her of the spirits. This was the... http://fb.me/7DkRzx2rK - Vivek Santhosh (@VivekSanthosh), 5 Aug 2014
"This needs to happen to more of those scumbag rapists in India," added another.

Atta girl! Indian Girl Cut Off Uncle's Penis After He Tried To Rape Her For A Second Time http://elitedaily.com/news/world/indian-girl-literally-takes-matters-into-her-own-hands-and-chops-off-rapist-uncles-penis/698246/ ... via @EliteDaily - Shikha Sood Dalmia (@shikhadalmia), 5 Aug 2014
Rape is an overwhelming concern in India in general and Bihar in particular, with a total of 478 reported cases this year alone, according to the Bihar police. To top it, matters get worse when ministers of the state claim that mobile phones and non-vegetarian food are the reasons for surge in rape cases.
Mehta is still at large, penis-less and detectives are said to be looking for him.