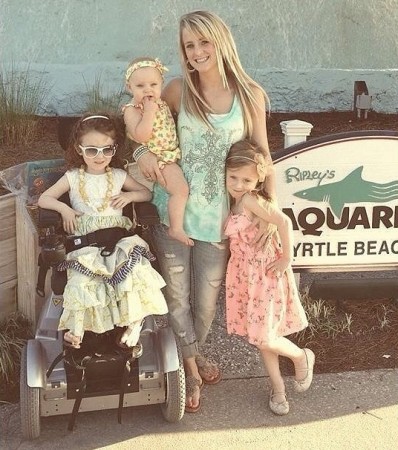 The past few months have been going well for reality star Leah Messer. The "Teen Mom 2" cast member even won shared custody of her six-year-old twin daughters Aliannah and Aleaah, and gets to spend more time with them now.
The latest news about the TV personality suggests she will spend Easter with the twins and her two-year-old daughter Addie. The West Virginia native recently tweeted she's shopping for Easter dresses for her girls. She added she plans to include them in a photo shoot to mark the occasion.
Leah sounds excited about the upcoming festival and perhaps her ex-husband Corey Simms doesn't want to ruin her time with the kids. A source told Radar Online the two are in a good place, and seem to have reached an understanding.
"Both Leah and Corey are very happy with the new schedule. They are on great terms," the source added.
Furthermore, Corey can't spend time with his daughters on Easter Sunday since Leah, 23, gets to keep the kids between Thursday and Monday.
Corey's new attitude towards his former wife marks a big difference from how he treated her earlier. The Simms were often hard on the reality star when "Teen Mom 2" Season 6 aired. Corey's wife Miranda even alleged Leah was addicted to drugs.
Although it has been widely rumoured that Leah checked herself into rehab in 2015 for drug addiction, she has maintained she underwent therapy for anxiety.