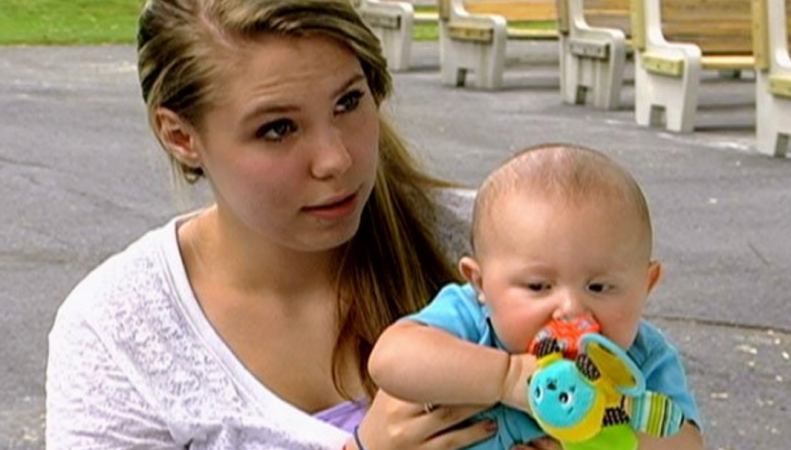 Ever since Kailyn Lowry's husband Javi Marroquin left for his military deployment, the internet has been abuzz with speculations of their divorce. The "Teen Mom 2" star has reportedly been spotted with several men after her husband left for Qatar and reacted in a rather bizarre manner when her friend messaged her during the filming of "Teen Mom 2" Season 7 episode 9.
The fans did not miss Kailyn's impulse to hide the message. Even before her husband could take notice, devoted fans of the MTV TV series sent screenshots of Kailyn's phone, which impelled him to tweet, "Oh interesting. Same guy from last season," Inquisitr reported. This tweet has since been deleted.
According to the outlet, Javi accused his wife of being sneaky about messages from Hill in "Teen Mom 2" Season 6 as well.
While fans of the reality couple seem to have taken Javi's side, the mother-of-two clear the air in an interview with Radar Online. She said that Hill is her friend from school and far from being the third wheel in her marriage.
"We've even filmed together," she added, sounding confounded by Javi's reaction. Her only reaction to her husband's tweet was this: "Maybe he [Javi] was being a smart a--?"
The "Teen Mom 2" cast member stated that she's still married and added that the distance is affecting her husband.
However, it seems as if Javi has been swinging between sweet romantic gestures and doubts over the stability of his marriage. A few days prior to the airing of "Teen Mom" Season 7 episode 9, he uploaded a video of him training in the military base in Qatar. He captioned the video on his Instagram, thus: "The only comment I want is from you."
"Teen Mom 2" Season 7 airs at 10 p.m. EST on Mondays on MTV.