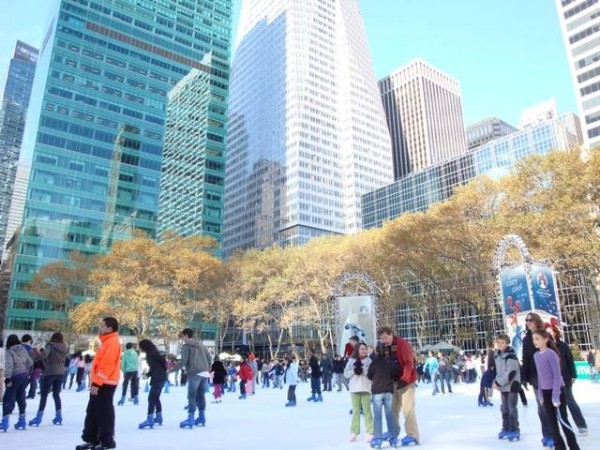 A 16-year-old boy from Bronx has been charged for firing at a crowd in the popular Bryant Park ice skating rink in midtown Manhattan, New York. Two skaters were wounded, one of whom the teen tried to rob later on.
The shooter reportedly approached a 20-year-old man and asked him for his coat. When the man refused, the shooter left, only to return later and spray bullets all over the place. Even though his target appeared to be the 20-year-old who refused to give him the coat, a bullet also hit a 14-year-old skater, according to The Huffington Post.
"I'm surprised — absolutely surprised," Alan Targhi, one of the skaters told Huffington Post. "I expect peace and love and happiness in this park; it's the reason I come."
"We had a view of the whole thing, we saw it happening, and the first thing that came to my mind is, 'It's a crazy person with a machine gun and all he wants to do is kill as many people as possible,'" another man added.
The teenager will now be tried as an adult with attempted murder, assault and criminal possession of a weapon.
The shooter appeared to have no remorse for hurting two people and jokingly confessed to the shooting on Facebook. He also spoke about being helpless when the cops were at his door.
FEDS AT MY DOOR IM GOIN OUT WITH A BANG!!!!!!! TAKE MY SOUL,'' the shooter wrote on his Facebook page from his mother's home in Bronx, reported New York Post. "LOVE ALL MY REAL N***AS ALL MY REAL SHORTYS FEDS TRIEN KICK DOWN MY DOOR ITS OVER WERE DO I GO FROM HEREEEEE MANNNNN DO I END MY LIFE IDK WAT TO DO I F***ED UP."
"THESE N***AS GUNNA HAVE TO TAKE ME OUT TAKE MY LIFE THESE N***AS BEEN BANGIN FOR LIKE A F***IN HOUR I AINT GOIN TO JAIL I REATHER TAKE MY LIFE!!" he added, contemplating suicide.
He later surrendered to the police but surprisingly appeared to be unfazed by the incident. He grinned at the cameras and hurled expletives at media personnel.