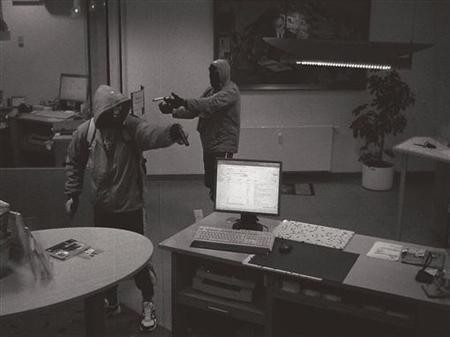 A techie working with a major IT firm in Bangalore almost robbed off Rs.13 lakh from a private bank on Friday by posing himself as a human bomb before he was overpowered by security personnel while he was trying to run away with the cash.
The accused was arrested and booked by the police for trying to rob cash and threatening to blow up the back with a fake bomb.
The incident happened at around 4pm when a techie, who has been identified as Pranjal Bhattacharjee, entered HDFC Bank's Indiranagar branch under the pretext of opening a new account. He started threatening the cashier he was asked to come back later as the working hour for the day was over.
In his complaint to the local police, the manager of the bank said that the techie threatened that he was carrying bomb and would blow up the bank if the cashier didn't hand over all the cash to him.
He tried to escape after collecting Rs.13 lakh from the counter but two alert security guards closed the door and overpowered him.
"We have arrested Pranjal Bhattacharjee, 34, under section 392 of the Indian Penal Code (IPC) for committing bank robbery and threatening to blow the bank up," Deputy Commissioner of Police (East) Krishnam Bhat told news agency IANS.
"On being alerted by the bank, a sub-inspector and a beat constable rushed to the branch on the main road and nabbed the accused, who was carrying an old camera tied to two batteries with wires protruding from his waist," he added.
Bhattacharjee told the police during the interrogation that he decided to rob the bank as he was under heavy debt and wanted to clear them.