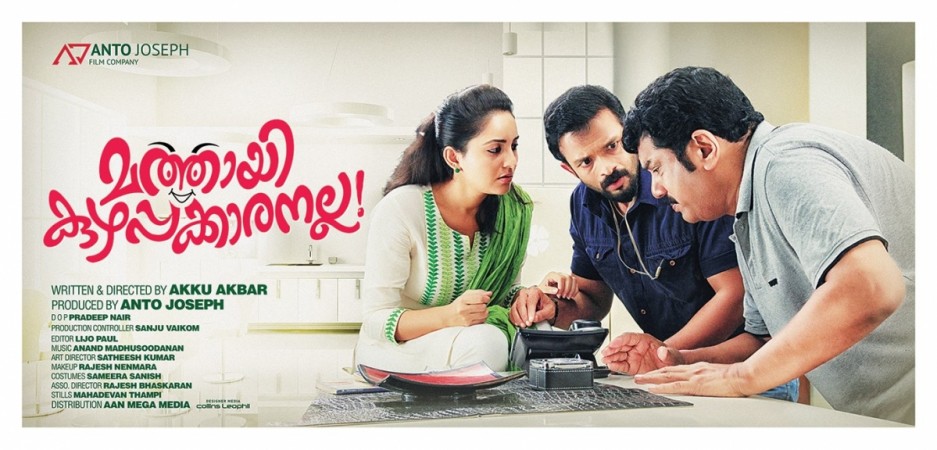 The teasers of upcoming Malayalam movie "Mathai Kuzhappakkaranalla" is released. It introduces the characters and the nature of the film.
The film is touted as a romantic comedy starring Jayasurya and Bhama in the lead and is directed by Akku Akbar.
The first teaser gives a glimpse of the characters of the film played by Jayasurya, Sreejith Ravi, Mukesh and Lakshmi Gopalaswami. The teaser goes through dialogues in the film, which highlights attitude of certain men who avoids their wives' call. The teaser also has dialogues, which points at husbands and wife who are not open about their feelings.
The teaser also shows Sreejith Ravi doing a comic role. He had also played an iconic comedy role of Abhaya Kumar in the film "Punyalan Agarbhathis" along with Jayasurya. Bhama had previously acted with Jayasurya in films like "Ivar Vivahitharayal", "Husbands in Goa" and "Janapriyan". All these films had also managed to make a mark in the box office.
The second teaser is also along the lines of the first one. In this teaser, Lakshmi Gopalaswami is seen complaining to her husband (played by Mukesh) who was not responding to her calls. She tells that she had called him for nearly eight times but his response was that he has been busy and will call her later. He did not bother to ask her the reason for her calls even after reaching home.
In "Mathai Kuzhappakkaranalla", Bhama will play the assistant to a leading lawyer and someone who is smart, bold and equally good at heart. She plays the role of fiancée to Mathai, played by Jayasurya. The story of the film revolves around Mathai who is a naive auto driver.
Akku Akbar is known for bring out family-based films like "Sadanandante Samayam", "Veruthe Oru Bharya" and "Bharya Athra Pora". However, his last film "Ulsaha Committee" starring Jayaram failed to make a mark in box office.
The film was initially titled as "Mathyiyude Suvisheshangal" but was later changed. The film is now set to release is in October.
The cinematography of the film is done by Pradeep Nair and is edited by Lijo Paul. The music of the film is composed by Anand Madhusoodanan.
"Mathai Kuzhappakkaranalla" is produced by Anto Joseph under the banner of Anto Joseph Film Company and is distributed by Aan Mega Media.