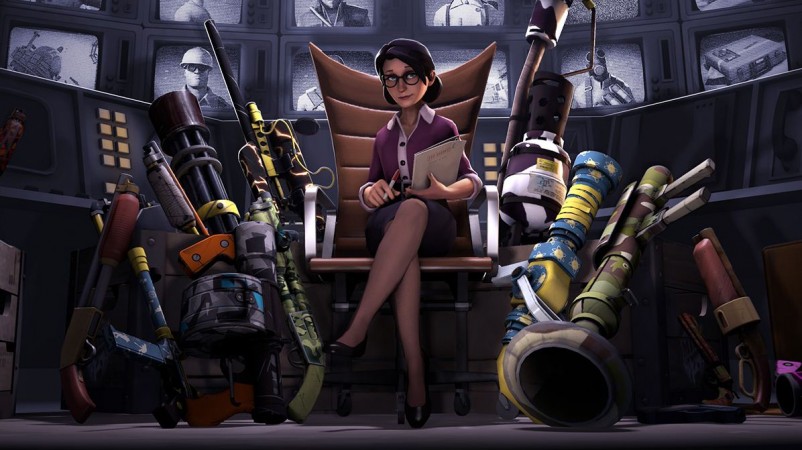 Valve's very-popular free-to-play shooter Team Fortress 2 is prepping for a brand new update, The Gun Mettle Update, this week. The update is now set to add a brand new contract system, alongside a plethora of fresh weapons, a number of new maps and even a few new taunts.
The Gun Mettle campaign is basically a three-month event in which players will be able to take on contracts, each of which will feature various skill-based challenges.
"Your tireless fixer is under fire from the Administrator to keep the body count up, and she needs two things. 1) Executing black-bag kill-contracts and 2) landing the contracts by drafting and submitting detailed preliminary supplier-side bundled service proposals," the official page states.
"Since you're a dangerous murderer who probably reads at a third grade level, we have a pretty good idea which one you can help her with."
On completing those contracts, players will be rewarded with unique weapons that will even feature randomised paint jobs for guns. Further, the weapons, with varying degrees of rarity and uniqueness, can be traded or sold later.
If you want to take part in the Gun Mettle campaign, you must know that it will require players to purchase a campaign pass, which will cost $5.99. Valve has even posted a lengthy FAQ with extensive details about the campaign.
Apart from that, players won't have to pay for the rest of the update's additions, some of which include Powerhouse, a new three-point capture point map, three new community-made maps (Borneo, Suijin and Snowplow) and community-made taunts, including one aimed at Metal Gear Solid fans.
The full list of changes that will be available with the upcoming Gun Mettle update can be found at the official Team Fortress 2 website.
Stay tuned for more updates!
[Source: Polygon, Team Fortress]