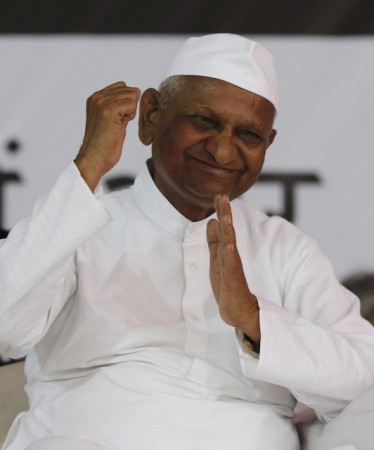 Anti-corruption crusader, who ended his indefinite fast abruptly on Friday, has sparked controversy by announcing that his camp would form a political party to deal with corruption. It has prompted a section of Anna's supporters to raise uncanny questions on his alleged political agenda and his team's integrity in fighting corruption.
Anna's supporters, who were irked with his decision to float a political outfit in a bid to clean up corruption in the country, burnt the posters of the 75-year-old Gandhian and that of India Against Corruption (IAC) in Navsari, Surat, according to media reports.
This unexpected move from Team Anna has taken everyone by surprise, mainly their supporters. A section of supporters looked at this decision as a let down by the anti-corruption crusaders as they wanted a revolution and not another political party. Few volunteers of IAC have reportedly returned their ID cards expressing their dissent to Anna's political idea.
Meanwhile, some perceived it as the best way forward to check corruption in the long run.
On the other hand, Team Anna's eminent member and former Lokyaukta N Santosh Hegde was also reluctant on Anna floating a political party.
Hegde had clearly said that he's not for Team Anna floating a political party and will not enter politics. However, he said that he would campaign in the elections for a candidate whose main priority is to fight graft.
The Congress party has alleged that jumping into the fray of active politics has been Anna and his camp's top agenda, all along the way, while saying it's one's right to fight elections in a democracy.
"Everyone in public life has right to join politics," Union Information and Broadcasting Minister Ambika Soni, said after Anna's announcement to raise a party. "You can't hold the government to ransom like that. I am glad they will end fast. Some of us always felt they were inching towards active politics. They'll understand obligations and constraints."
Arvind Kejriwal, Team Anna core committee activists, who called off his nine-day fast along with Anna on Friday, is expected to meet the upset supporters and is likely to convince them on the decision of Team Anna members to join politics.