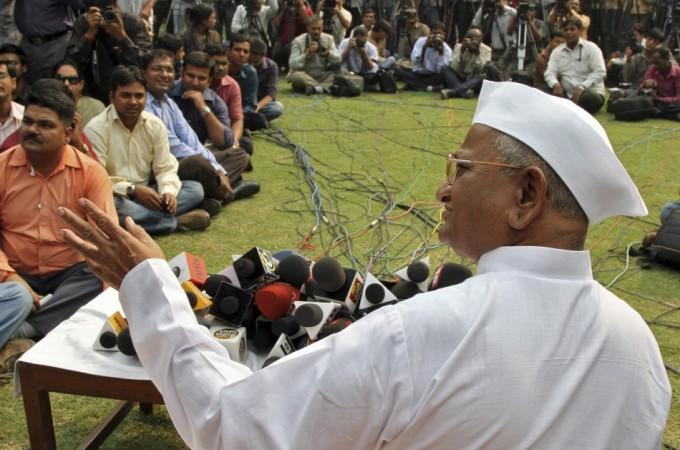 Amid reports of friction among the core committee members of India Against Corruption (IAC), following the recent tie-up between anti-corruption crusader Anna Hazare and Yoga Guru Baba Ramdev, core team members are meeting on Sunday in Noida.
According to media reports, the meeting which is attended by prominent core committee members of IAC, Anna Hazare, Arvind Kejriwal, Prashant Bhushan and Kiran Bedi, will decide on the future course of action.
It also reported that other members of IAC are not happy with the recent announcement of a joint fast on June 3. "If Anna decides on agitation, nobody will have objections. But the issue here is that Ramdev played one-up manship and he did not take Anna into confidence," The Hindustan Times quoted a Team Anna member as saying.
"He had sought a meeting to discuss issues. But after the meeting he was forced to attend the media briefing. We have serious objections to this," the Team Anna member added.
During a joint press conference, both the leaders announced that the Yoga Guru will start his agitation against corruption and it will be followed by a joint fast at New Delhi's Jantar Mantar on May 3.
The 73-year-old Gandhian will start his agitation from Shirdi, a town in Maharashtra, while Ramdev will embark on a yatra from Durg in Chhattisgarh.
Hazare announced that they will visit 35 zillas in Maharashtra to awaken people against corruption. While, Ramdev announced that he will visit other parts of the nation.
After the announcement, other team members of the AIC claimed that they were not aware of the announcement and neither the Yoga Guru nor Hazare consulted them about the latest development.
Team Anna had apprehensions about involving Baba Ramdev in the ongoing anti-corruption campaign as the Yoga guru is facing credibility crisis.
Meanwhile, in another fresh rift among team members, one of the prominent team members of IAC, Mufti Shameen Kazmi was expelled from the group for allegedly recording the proceedings of the meeting using his mobile phone.
Kazmi who claims to be the Muslim face of Team Anna said that some of the activists were running the show in an authoritarian manner.