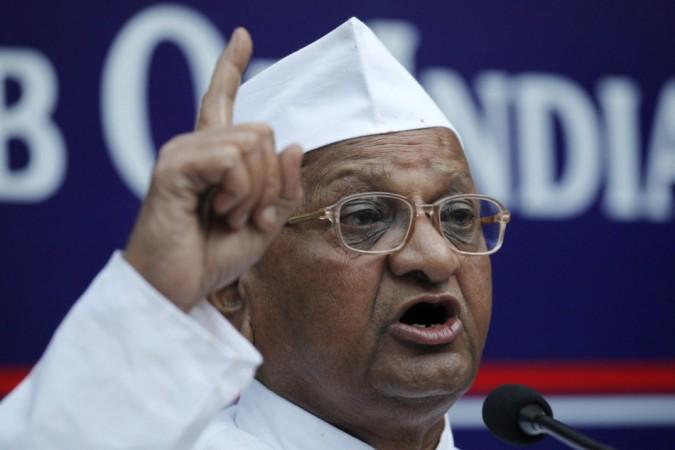 Anti-corruption crusader Anna Hazare announced on Monday that he has dissolved Team Anna, which was spearheading the protests across India for Jan Lokpal bill.
"Team Anna's job is over. We are separate now. They will form a party. I have nothing to do with it," Anna was quoted saying to NDTV.
First announced on his official blog, Anna said that the necessity of Team Anna has come to end as it was formed get the Lokpal Bill see the light of day. The latest announcement followed his last week's decision to provide a political alternative to the country in fighting corruption.
Activist Arvind Kejriwal and Anna were on fast at Jantar Mantar, demanding probe against 15 ministers in UPA cabinet over their alleged involvement in graft cases, besides urging for immediate passage of anti-corruption ombudsman.
The team eventually ended their indefinite fast abruptly on Friday, saying that they would float a political party as the government turned cold feet in meeting their demands. Anna and his close aides' decision sparked a furor amongst their supporters and in political circles as well.
While some parties welcomed the decision by Anna and his group, other political leaders alleged that the anti-corruption crusaders had a long-standing agenda for gaining power.
Irked with his decision to float a political outfit in a bid to eliminate corruption from the country, Anna's supporters burnt posters of the 75-year-old Gandhian and of India Against Corruption (IAC) in Navsari, Surat on Saturday.
Eminent personalities like former IPS officer Kiran Bedi and Lokayukta chief Santosh Hegde were amongst the core committee members of Team Anna. The team also had social activists Arvind Kejriwal, former Law-minister Shanti Bhushan and his son Prashant Bhushan, who is also a well-known Supreme Court lawyer.
Anna has observed four indefinite fasts in 17 months with the help of his close aides and IAC activists across the country. Last year's 16-day-fast in Delhi registered massive support from the public, forcing the government to call for a special Parliament session and look into Anna's demand to some extent.